Dr. Sue's Funny Review "Mrs. Hamilton the Musical"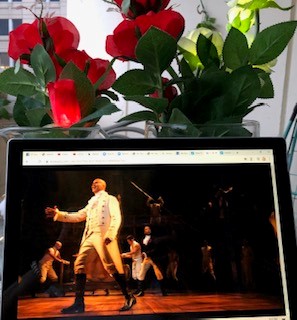 "Hamilton the Musical" is a lot of laughs…after the show! I streamed the mega-hit, mega-bucks Broadway show on my computer. Due to the pandemic, Broadway is closed for live entertainment, but "Hamilton" now streams online – if you subscribe to Disney +.
I am in voluntary self-quarantine, so I spend most of my time at home with my computer – or going for morning, solo walks in my local park – where I became friendly with the Security Guard. I usually wear a mask, but the Guard and I (who remain six feet apart) remove our masks and enjoy lively, often humorous conversations.
The morning after I watched "Hamilton" I encountered the Security Guard. He had not seen the show on Broadway or online, so I summarized the story – with my own comic twist – and here it is!
Hamilton (a US Founding Father), a.k.a. "Mr. Ham" is the lead role. Mr. Ham, immigrates to the pre-USA, fights for independence, invents banking, flirts with his bride's sister, insults people, and fathers a son – who gets into to a duel to defend his dad's honor. Mr. Ham tells his son to shoot into the air – which gets him killed.
Mrs. Hamilton is really steamed – especially when Mr. Ham defends his financial honor to his enemies by pointing out that his suspicious check stubs were payments to the hubby of a local hottie for letting Ham and hottie do the nasty in the wife's bed.
Mr. Ham gets into his own duel, shoots into the air, and gets himself killed.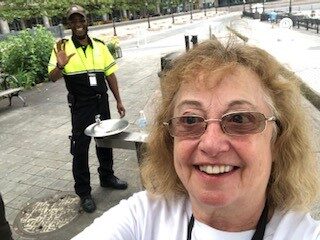 The musical makes multi-millions – on stage and now…on screen.
The Security Guard and I plan to write a sequel called… "Mrs. Hamilton: I Married a Moron! "
In our version, Mrs. Ham gets the pistol and shoots Mr. Ham in his pee-pee.
She becomes a Founding Mother, and we become billionaires!
Our new, improved version has comedy and a happy ending! We expect it to be a success – on stage, screen and as a sitcom/reality show called… "I Married a Moron!" The married couple will be play by a celebrity wife and a famous US politico husband. Guess who!
We hope to spin-off the sitcom into dance-exercise videos – so you can social distance – and stay in shape! Here is a free sample!
Dr. Sue and Security Guard Dance-Exercise in the Park!