Dr. Sue Sings "Cielito Lindo" Latin Diversity Song in NYC Park Positive Entertainment
New York City offers many pleasures. Some are public and exciting – like Broadway shows. Some are more personal and intimate – making new friends, crossing cultures, and sharing creativity!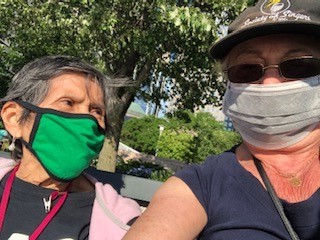 Opportunities for Creative Connections are all around us- even in the epicenter of the 2020 Covid-19 pandemic. A great way to expand your cultural and personal horizons is to visit a city park!
Fortunately, I am able to take walks in my local park, where I often take photos and videos of flowers – and sometimes fish, ducks, and dogs!
I post my photos and videos on Social Media with short remarks and invite my online friends to comment – which they do! This gives a purpose to my walks and keeps me creatively active and connected – even while maintaining social distance.
Walking in the park near The Museum of Jewish Heritage, I encountered an Artist-Protester Elizabeth Abraham, who was displaying her personal creation – a "Black Lives Matter" picket sign-artwork she carries in protest marches. (My photo-video interview with Elizabeth is in another Blog Post.)
Elizabeth, who is considerate, artistic, adventurous, and good company, was looking for a friend – and so was I! She comes to my local park from her uptown apartment in Harlem. She uses the Access-A-Ride transportation service to come to my neighborhood park because she has a has a non-visible disability. Soon we started talking on the telephone to arrange ways to meet, socialize, and do activities together.
One day, Elizabeth told me that she was using Access-A-Ride to bring her 90-year-old family member to our park, and she invited me to meet her. Like Elizabeth, her family member, named Aida Marriott, is Puerto Rican. But unlike Elizabeth, Aida speaks only Spanish – no English – and she has Alzheimer's Disease (with memory loss). But, said Elizabeth "She sings like a bird!"
This turned out to be true. Aida likes to sing – and so do I. As we were walking through the park, I started singing the Italian song "O Solo Mio" (mainly in English). Elizabeth complimented me on my singing. Encouraged by her support, I tried to think of a Spanish song. I remembered a lovely Mexican song called "Cielito Lindo" (Beautiful Little Sky). Soon Aida and I were singing together on a beautiful day in the park!
"Cielito Lindo" is simple, melodic, and easy-to-sing. Sometimes a simple song reaches beyond language barriers, memory loss, and cultural differences to connect as human beings… and open our hearts!
Here are the lyrics in Spanish – Scroll down for our video!
Cielito Lindo by Ana Gabriel
De la sierra, morena
Cielito lindo, vienen bajando
Un par de ojitos negros, cielito lindo
De contrabando
Ay, ay, ay, ay
Canta y no llores
Porque cantando se alegran
Cielito lindo, los corazones
By the way, Aida (who doesn't speak English) removed her mask during our song. Elizabeth and I let it go. I said, "She's 90-years-old. I'm not going to tell her what to do."
Here is a Video of Our Singing Duet!