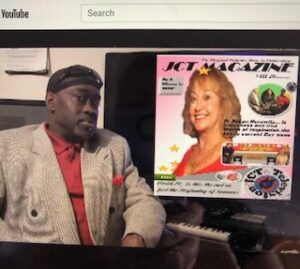 Welcome to the Pop 'n Dr. Sue Show! 
Pop is Poppa Tee, Producer/Owner of JCT TV and Multimedia www.jctmagazine.com   I am Dr. Sue (Susan Horowitz, PhD) We are co-hosting the "Pop 'n Dr. Sue Show" Our mission is to offer Positive Entertainment, and Empowering Advice and Health Tips to Help you Create the Life You Want! We are both in voluntary self-quarantined to support the stay home – stay safe policy. That's why we are doing a radio call in show. Here are a few key points:
Focus on what you can give and believe in your own resources and talents.  
Your resources can be monetary – you can donate to charity
Your resources can be your skills, talents, or connection to others
When you give to others, you not only help them, you empower yourself
Creativity is a tremendous resource! 
You can share your own creativity
You can also support the creativity of others
Connect to others – even if you need to keep social distance. 
Make a phone call to friends, family or neighbors.
If you cannot call, you can Email, text, or use a phone app.
You can send photos or short videos or links to something they will enjoy.
We all need social connection – in person or any other way!
Please let us know how you're doing! Visit: Facebook: New York Strong  We'll be back with more shows, and more tips! Here are two videos: JCT Pop 'n Dr. Sue Show and Dr. Sue YouTube Channel  Here's the Pop n Dr. Sue Show! Here's Dr. Sue YouTube Channel: www.youtube.com/drsuecomedian  with my free, uplifting original song: "We're In This Together"