Dr. Sue Interviews Artist-Protester Black Lives Matter
Positive Entertainment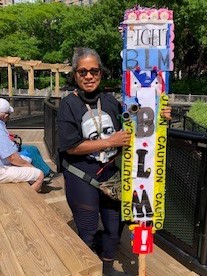 Dr. Sue Interviews Artist-Protester Elizabeth Abraham.

Ms. Abraham shares her artwork – a tall vertical sign, which she carries in protest marches in New York City.
The sign includes the letters "B L M" –
which stand for "Black Lives Matter."
This popular, and sometimes controversial slogan
is often shouted in the streets.
Ms. Abraham asserts that we should fight racism – both here in mainland USA and in her native Puerto Rico. "Fight, fight, fight! But you don't have to get physical, you can fight with intelligence."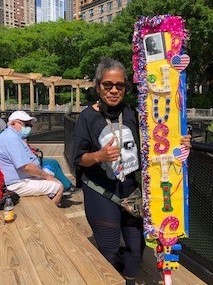 The other side of the sign shows a photograph of Reverend Martin Luther King.
Ms. Abraham quotes Reverend King, saying "We could have come in different ships, but we're in the same boat now."
Other symbolic items on this combination picket sign and 3-Dimensional collage art include: the USA Flag in a heart-shape, eyeglasses, and the numbers 2020 – because that is the current year – a year of vast upheaval, a pandemic, and a global confrontation of injustice.
The sign is designed as a vertical rectangle on a stick so that it is portable and visible. Ms. Abraham can hold her sign high above the crowd and be seen by participants and media.
As you'll see by my video interview, Ms. Abraham speaks clearly and passionately about the protests and the death of George Floyd, the latest, glaring example of systemic racism.
But despite the seriousness of the issues, Ms. Abraham is never hostile or argumentative. In fact, the entire interview took place in an atmosphere of cooperation and sincere, friendly communication.
Ms. Abraham started creating her artwork as a way to give herself a a creative outlet and sense of purpose during a pandemic in New York City, where we have spent much time confined to our homes. This is especially true for seniors like Ms. Abraham, who are at extra risk for Covid-19.
Many people, who are stuck at home feel bored, unhappy, lonely, and fearful. But Ms. Abraham finds a way to turn a negative situation into an opportunity for growth, creativity, and sharing.
I hope that you enjoy this video:
Dr. Sue Interviews Elizabeth Abraham, Artist-Protester.