Dr. Sue Enjoys Ashokan Music & Dance Camp Online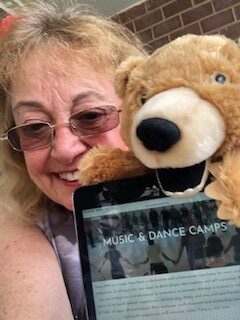 My Teddy Bear Puppet (and Me) love Ashokan & Music-Dance Camps – Online in 2020!
Ashokan Arts and Nature Center is nestled in the Catskill Mountain of New York – an idyllic setting for music, dancing, hiking, wildflowers, butterflies, and swimming in a natural pool by a waterfall.
There are several camps in the summer, specializing in different types of mainly traditional American music, with classes in singing, music theory, instruments and more – plus different kinds of dancing. Each camp is one week long – plus weekend music-dance hoots and events (like the popular New Year's weekend).
Attendees include adults, families, singles and couples, with all ages mingling freely , in classes, on the dance floor, and in the dining hall around wooden tables set up for family style dining. Delicious meals are prepared by the gifted chef (with vegan options) and kitchen staff, with produce fresh-picked food from the farm garden near the dining hall. Attendees stay in comfortable dorms, private rooms, and local inns – or bring their own tents. If you attend online, you can relax at home and sleep in your own bed – and it's easily affordable – with a sliding scale payment option.
Music and dance classes – with evening concerts by staff and campers, plus informal music jams emphasize participation, and a sense of "family". Campers often return year after year and build life-long friendships with each other and with the owners, a married couple named Jay Ungar and Molly Mason. Jay's original, but traditional sounding fiddle song "Ashokan Farewell" was featured in the Ken Burns documentary PBS series on the Civil War – and provided key funding to save and upgrade the Ashokan Center as a unique combination of an environmentally conscious, natural setting for music and the all the arts (including, painting, quilting, and a canoe on the rafters of the dining hall).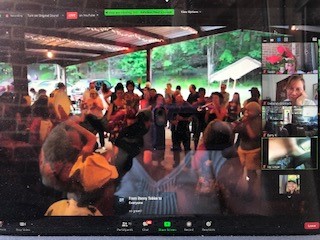 Building community usually takes in-person interaction. So how in the world is all this going to happen online? There's a one word answer – Zoom!
It turns out that Zoom is well-suited for classes, concerts, and comments. Featured performers appear in the large middle screen. Attendees can leave comments on the side and appear in small video boxes in the Zoom Gallery.
Many Ashokan "Zoomers" play musical instruments or sing, and some even dance at home -but you don't have to – you can just enjoy the performers. (I can see Zoomers in the gallery of little video boxes.)
My teddy bear hand puppet can't play the banjo or guitar – probably because he doesn't have a thumb. But my own thumb fits nicely in Teddy's plush arm, and combined with my fingers and hand, Teddy can wave to the Zoomers, emote (with dramatic effect) and applaud with enthusiasm! Teddy can also dance (more or less). He doesn't have two left feet because… he doesn't have any feet! And, as it turns out, he fills up a video box and looks great in Zoom!
To learn more about Ashokan Center, please visit https://ashokancenter.org/. Here's the Direct Link to the Camps: https://ashokancenter.org/camps/
https://www.youtube.com/watch?v=m76rfx4NFUg
Let's revisit old memories – and look forward to in-person good times….!
Dr. Sue's YouTube Channel www.youtube.com/drsuecomedian
Here I am in 2018 singing my original song with the Ashokan Honky-Tonk Band!