ENTERTAINING SPEAKER
Susan "Dr. Sue" Horowitz, PhD, Entertaining Speaker and Singer
Keynote Talks with Breakout Sessions & Interactive Workshops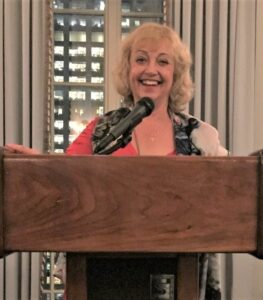 JOURNEY TO SUCCESS (G.O.A.L.S.)
Goals (How to Set Them and Get Them),
Overcoming Obstacles,
Creating a Positive Attitude & Action Plan that leads to Accomplishment,
Becoming an Effective Leader or Supporter, Service to Others.
"CELEBRATE DIVERSITY" – Keynote and Breakout Sessions
Diversity in Backgrounds, Communication & Learning Styles can be a source of strength – if we turn stumbling blocks into stepping stones.
Success Secrets of the Queens of Comedy: Based on Dr. Horowitz Best-Selling Book:
"QUEENS (and Kings) of COMEDY"
Success secrets from Dr. Sue's book Queens of Comedy
personal interviews with Lucille Ball, Carol Burnett, Joan Rivers, Phyllis Diller,
Whoopi Goldberg, Dolly Parton etc.)- how megastars turn obstacles into opportunities!
Plus – Queens and Kings from the Golden Age of Television Comedy
"LAUGH AT, LIVE WITH, & LOVE YOURSELF": Entertaining talk/Comedy/Songs
Explore the link between positive humor, laughter and health. Dr. Sue's S.H.A.K.E.
(Stress – Humor – Attitude/Action – Keep Going – Enjoy) recipe makes your heart smart,
your brain gain, and your liver quiver!
"COMMUNICATE, MOTIVATE, MANAGE ANGER  & TIME"
Create better outcomes and reduce conflict with effective communication, clear goals,
and Dr. Sue's results-oriented C.P.A. formula for personal Accountability. Reduce stress with Time Management and Anger Management. Turn Failure into Success! Handouts and Team/Partner Exercises.
Dr. Sue Speaks About Her Interview with Dolly Parton
SPEECH WRITING & COACHING: Special Events, Business Presentations
"Dr. Sue, You were a pleasure to work with!…I especially appreciated how you could take all of the "unspoken" intricacies of my speech and turn it into a beautiful, moving moment." – Doreen Fogel (Client)
JEWISH PROGRAMS
"The Genius of Jewish Comedy": Entertaining Talk/Comedy/Songs
Why are there so many Jews in comedy? What makes humor Jewish or universal?
Why does Dr. Sue sing "If I Was a Rich Goil"? Dive into the Chicken Soup – Have a Matzoh Ball!
Kings & Queens of Jewish Comedy: MultiMedia Series with Videos

Singing Services (Hebrew/English) for Sabbath and Holidays
Jewish Singers & Songwriters
Jewish Women on Broadway & Vaudeville!
Singles Workshops: "Break the Ice & Melt Their Hearts, Humor Attracts Romance, How to be Happy & Single"
History of Comedy: Entertaining, Multimedia Series with PowerPoint and Videos
"Columbus & the Caribbean": PowerPoint Talk with Songs
"Pirates on Stage, Screen, Song & Sea": PowerPoint Talk with Songs
"Dr. Horowitz is a dynamic, motivational speaker, who truly empowers
her audience! She not only speaks with energy and passion, but sings with
sparkle and warmth." — Dr. Judith Jaye, Ambassador: Sourth Africa

"Dr. Susan Horowitz has a burning passion to empower, educate, and entertain her audience.
By means of songs, a clear flow of ideas and her enthusiastic personality she is able to reach and inspire
her audience and change lives!"
— Dr. Emmanuel Lantin, Ambassador: France

"Let us hand in hand make the betterment of the world. Let us start working together for empowering women."
– Sri Hadiah Watie, Ambassador: Indonesia

"I am happy to note that I had the opportunity of meeting you in person and sharing your
passion for motivating people. I look forward to inviting you to Abuja-Nigeria."
— Chief Ebenezer Isokrari, Ambassador: Nigeria

"Your outstanding keynote speech: "Celebrate Diversity" was highly motivational, educationally sound, and entertaining… Your breakout session with your G.O.A.L.S. program was a hit.
You really listened to your audience and geared your presentation to our concerns."
— John David, Faculty President Stark State College

"You are an energetic, charismatic speaker who demonstrates a high level of preparedness,
resourcefulness and mastery of the topic."
– Avon L. Chapman: Director, Atlantic Cape Community College
(Video: Stark State College,
RSVP: Please Email Using Form Below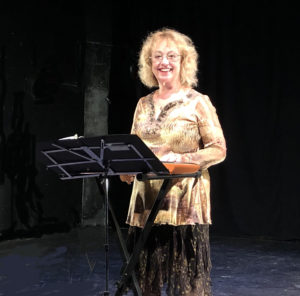 Entertaining Story Concerts of with Songs & Humor
"SssWitch"  www.SssWitch.net
Narrated Story Concert for Family Audiences, Schools, After-School Programs, Libraries, etc. with Interactive Workshops. Middle School and High School.
"Dagon the Dragon"  www.DagontheDragon.com 
Interactive Children's Story Concert with Movement for Family Audiences, Schools, After-School Programs, Libraries, etc. (Pre-School – Third Grade)
"Popular Standards and Original Songs in Many Languages"
Tuneful Melodies often with Audience Sing-Along Chorus.
Customized Entertainment –  Programs for Holidays and Special Occasions – Customized for You!
Dr. Sue sing her original romantic song "Suddenly There's You" from her musical www.SssWitch.net 
"You Can Be a Hero" Dr. Sue's Original Song with Stories

(Photo: Dr. Sue and Andrew Monohan at Gotham Music, St. John Lutheran Church, New York, NY)
Performance Review: "You and Andrew perform beautifully together." – Robert Katz, Producer/Host Gotham Music
"Welcome to a magic world of myth and fantasy
Let your imagination set your spirit free
Ancient legends that are told anew
Times may change, but feelings still are true
There's nothing that you fear
You Can Be A Hero If You Believe!" – Dr. Sue 
(Photo: The-Lambs, Inc. Club, internationally renown Theatre and Music Club, New York, NY) 
Please View Related Pages for more Details
RSVP: Please Email Using Form Below