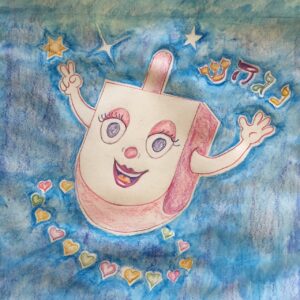 "JUDY MACCABEE"
copyright Susan "Dr. Sue" Horowitz, Ph.D.
National Prize-Winning Holiday Comedy with a Girl/Boy Hero, a Funny Bear (who talks in pantomime), and an Entertaining, Empowering Theme about Courage, Comedy, and Standing Up to Bullies!
Perfect for Hanukkah – and All Year !
Judy (disguised as "David") joins Judah Maccabee's army, gets a secret crush on Judah's nephew Jonathan, and spins more plot twists than a dreidel!
Did we mention that Jonathan is engaged to Judah's niece Bathsheba, who falls for Achilles, a soldier who serves nutty General Apollonios, who is tricked into an engagement with Judy's pet bear? This historical/hysterical, gender-bender takes us is on a rip-roaring romp with a surprise ending – sometimes it takes a disguise to learn to be your authentic self!
A Fun Family Comedy for the Hanukkah Holiday Season – and Beyond! Cast: 6-8 Actors, Flexible Length (can add songs), Unit Set First Prize Jackie White Memorial National Children's Play Writing Contest – Columbia Entertainment Company (original title of play "Hearts of Fire") Monologue and Scene from Judy Maccabee Published by Applause Theatre & Cinema Books The Applause Acting Series
Dr. Sue Sings her original multi-cultural, all-gender holiday song!
Susan "Dr. Sue" Horowitz, Ph.D. is a Writer/Performer of Award-Winning Musicals, Comedies, Songs, Plays, Poetry, Books and Professor. Her works include: "Queens of Comedy" (interviews with Lucille Ball, Carol Burnett, Joan Rivers, Phyllis Diller etc.), Read With Me (Children's Book of the Month Club), 1st and 2nd Prizes National Youth Play Contests, Cine Golden Eagle (Original Screenplay Animated Film)."For Heroes and Lovers" (CD of original songs), "I Am Loved" (Poetry Book). Performance Awards for Singing/Acting/Comedy/Poetry. Education: University of Chicago, Yale Drama School, Ph.D. CUNY Graduate Center/Hunter. Training: Second City Improvisation, BMI Musical Theatre Workshop, Songwriters Guild, Summersongs, Private.Lessons. Memberships: Dramatists Guild, Theater Resources Unlimited (TRU), Manhattan Association of Cabarets & Clubs (MAC), Musical Writers Meeting, Broadcast Music Incorporated (BMI), Gateway Art Center, WomenArts.Enjoy SssWitch! – An Anti-bullying, Empowering Musical! www.SssWitch.net Support the Arts!: Without the arts, many children have no chance for a fulfilling life! Without the arts, there is no real beauty or civilization!