Dr. Sue Solar Power Roses Positive Entertainment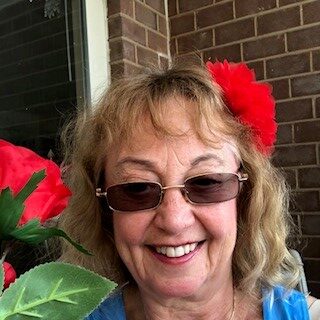 A rose is a rose…except when it has a secret! This rose has a solar battery that absorbs power from the sun!
Actually, all roses (and other plants) are powered by the sun through a natural process known as photosynthesis – turning light energy into plant elements (including flowers, fruit, roots, stems, leaves, etc.)
When we eat the plant, we are indirectly absorbing the power of the sun!
This rose (not the decoration in my hair – the other one) is solar powered. Its battery takes in energy from sunlight all day long. When the sun sets, the hidden lights in the roses turn themselves on and begin to glow in the darkness.
Day Roses – Night Roses…Empowered by the Sun!
Natural Roses are beautiful – we love their colors, aroma, and variety – from wild roses to carefully cultivated hybrids. These solar-powered roses are a fusion of beauty and science that we can enjoy day and night!
Speaking of energy, what do we do with all that energy? One thing I like to do is take long walks and photograph flowers in my local park. On my walks, I encountered a Parks Department Security Guard. We fell into a conversation about our shared interest in flowers and how the park gardeners carefully plant and tend the different varieties so they form multi-colored arrangements that change through the seasons.
The Guard and I formed a friendship over our shared interest in flowers and we began to talk about social issues too – in a spirit of understanding and enjoying each other's company. It felt particularly poignant because these days, due to the Coronavirus-19 and the need for social distancing, I spend most of my time at home alone. The park offers a chance for exercise, fresh air, sunshine, and sometimes – conversation.
One day, I decided to enhance the exercise potential of my walks and build up my arm muscles (along with my legs), so I started carrying water bottles. Each filled bottle weighs about two pounds. As I lift and swing my arms on my walk, I'm getting a good, full-body work out. What I still miss is dancing – especially with a good partner. All the dance clubs have been closed for months – and not likely to re-open soon. But it turns out that my new friend is … a dancer!
Water Bottle Weights are Free – Companionship and Dancing Joy are Priceless!
Dr. Sue Dance-Exercise in the Park!
Susan "Dr. Sue" Horowitz is available as an 
Entertaining, Motivational Speaker, Educator, Singer-Songwriter, 
and Teaching Artist. Please Use Contact Form on Website