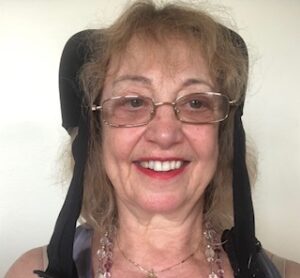 "Masks probably do provide some protection." That's the latest news from The New York Times
NYTimes on Masks and Coronavirus:
"Masks probably do provide some protection. They're particularly effective at keeping somebody who already has the virus from spreading it to others, and they may also make the mask's wearer less likely to get sick.
"Coronavirus appears to mostly spread when germ-containing droplets make it into a person's mouth, nose, or eyes," Vox's German Lopez explains. "If you have a physical barrier in front of your mouth and nose, that's simply less likely to happen."
Of course we should give first priority for masks to health-care workers. And there may be no masks available.
What can you do?  You can Make Your Own Mask!
It may not be medical grade – but it is surely better than nothing! Tie a Scarf around your Nose and Mouth! (You'll feel like a Movie Star – The Lone Ranger! ) Or Use a Bra Cup – any size will do! Fasten with hooks and eyes, snaps or elastic – get creative. Or cut up an old shirt or pants leg! (Use your imagination, your scarf, shirt, pants…or bra!)
Fashion Forward  means NewYorkStrong!
You don't have to live in New York to be NewYorkStrong !
What about TexasStrong? CaliforniaStrong? ChinaStrong ? ItalyStrong?
The Centers for Disease Control and Prevention is now reviewing whether to encourage Americans to wear masks. That would be a reversal and come after weeks of discouraging mask use. Many journalists, including me, previously quoted the experts who urged ordinary people not to wear masks.
Susan ("Dr. Sue") Horowitz, Ph.D.
Book: "Queens of Comedy" (interviews with Lucille Ball, Carol Burnett,
Joan Rivers, Phyllis Diller, etc.) http://www.smashwords.com/books/view/219367
Original Musical: "SssWitch": http://www.ssswitch.net
 CD: "For Heroes and Lovers": http://www.cdbaby.c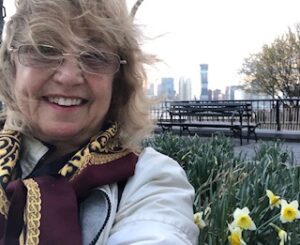 Hello. This is Dr. Sue (Susan Horowitz, Ph.D,) I live in Manhattan, New York, the epicenter of our current pandemic. I say "current" because, this too shall pass – especially if we take care of our health – physical and mental.  
It's March, 2020, early spring – one of my favorite times of year. I've been spending lots of time in my apartment. I wanted fresh air and a way to connect to the beauty of nature. Social distancing is important, so I decided to go for a solo walk in a local park – no mass transportation, and no crowds. After a short walk in the park, I came across these beautiful fields of daffodils. (Please scroll down for video).
These golden-trumpeted flowers reminded me of the ending lines from one of my favorite poems: "I Wandered Lonely As a Cloud" by William Wordsworth, written in the early 19th century. The last line of the poem is: "And then my heart with pleasure fills and dances with the daffodils." Wordsworth writes about how, when he is feeling depressed,  ("in vacant or in pensive mood"),  he remembers the daffodils moving in the wind. The memory lifts his spirits and he feels pleasure as he imagines "his heart…dancing with the daffodils."
Many of us are feeling isolated and lonely and bored as we self-isolate to protect our health, and the health of our loved ones and community. This is the wise and generous thing to do. It's easy to become depressed as the public media and worried friends share frightening statistics and stories – – and interpretations that can lead to personal despair.
What can we do?
We can take care of our physical health, and by now, we know what to do (social distance, hygiene, etc.)
We can take care of our mental and spiritual health.
We can manage and limit our exposure to negativity.
We can focus on opportunities for growth and learning, on healthy routines, on hobbies, and on beauty.
We can enjoy the beauty of nature – either in reality (like my solo walk), in memory (like William Wordsworth's poem), or virtually (in videos, photographs, and text).
I hope you enjoy this video of me and my daffodils!
Dr. Sue Shares Uplifting Poem About Daffodils
Please Subscribe to my Blog.
Dr. Sue is the Founder-Admin of Facebook Group New York Strong Group
Please visit www.NewYorkStrong.nyc Please Join NewYorkStrongGroup https://www.facebook.com/groups/924260644695606/?ref=pages_group_cta
Susan ("Dr. Sue") Horowitz, Ph.D.
Book: "Queens of Comedy" (interviews with Lucille Ball, Carol Burnett,
Joan Rivers, Phyllis Diller, etc.) http://www.smashwords.com/books/view/219367
Original Musical: "SssWitch": http://www.ssswitch.net
 CD: "For Heroes and Lovers": http://www.cdbaby.com/cd/drsue2