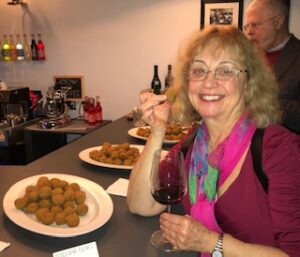 Cremini's Restaurant a "delizioso" (the Italian word for "delicious") taste of Italy in Brooklyn, New York.
What is a "cremini"? A sweet dessert that combines perfectly with the salty taste of an "Ascolana" (stuffed) olive.
Cremini's Restaurant invites you to sample varieties of both (with and without meat).
Ascolana olives and cremini's come from Le Marche region on the east coast of Italy on the Adriatic Sea.
Le Marche is also famous for "crescia" – Italian flatbread – hand-made into appetizing sandwiches and a fettucini pasta (molded into a mound).
Italian "cucina" (cuisine) is best washed down with wine. So sample some favorites from the vineyards of Le Marche: "Passeria Brut" – a sparkling white wine that is a richer version of Prosecco.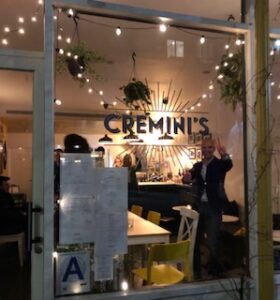 Or try the "Lacrima" red wine. "Lacrima" means "tears" in Italian – which is close to Latin.
(To my surprise, I was able to remember "lacrima" from my high school Latin class – when we read "The Iliad" in Latin.
As my students once reminded me "Nothing you learn is ever a waste!")
It's so true – culture, language, and variety of accents enrich our enjoyment of wine and food – and vice versa.
I hope my blog opens the door to appreciate the rich variety of cultures and wines – wherever you live.
Care to try a little Italian? Can you say "Mi piace" ("I like it")? Or enjoy my original, multi-lingual song "Te Amo/Ti Amo (I Love You)" which begins: "I only meant to share some wine…."
You can explore the joys of local wines and vineyards when you Discover Upstate New York https://www.discoverupstateny.com/dine-stay/wineries-vineyards/
Here's my video with Riccardo, who co-owns Cremini's with his wife and chef Elena.
Dr. Sue's mission is to Empower, Educate, and Entertain! Please like, follow, and subscribe to my Blog and Video.
Susan ("Dr. Sue") Horowitz, Ph.D.
Book: "Queens of Comedy"
(interviews with Lucille Ball, Carol Burnett,
Joan Rivers, Phyllis Diller, etc.) http://www.smashwords.com/books/view/219367
Original Musical: "SssWitch": http://www.ssswitch.net
 CD: "For Heroes and Lovers": http://www.cdbaby.com/cd/drsue2
"I love coffee, I love tea, I love the java jive and it loves me…" ("Java Jive" by Milton Drake & Ben Oakland).
If you're looking for a cuppa caffeine, an herbal serene, or an entertaining scene,  you'll hum, jive & come alive at the annual Coffee & Tea Festival NYC at the 69th Regiment Armory – listed as one of the "Ten Best New York Events."
Perked up by morning cappuccino ($25 for VIP  tickets – early entry plus swag-bags) we bought raffle tickets for "Cup for Education" – a non-profit company that supports educational projects in poor, coffee-growing areas. (All donations go to the local communities – the staff is all-volunteer.)
Prizes included goodies from vendors – established tea brands like Red Rose/Salada plus newcomers like "A Gift of Tea" –  which makes "Tea Fields" – a tea-infused, shea body butter  which my skin is drinking in along with my morning cuppa.
Coffees range from local  –  like Toby's Estate, a Brooklyn roasters/espresso bar and New York Gourmet Coffee ("Fuhgeddaboudit!")  to major brands like A&P's Eight O'Clock coffee.
Ancillary products include Nektar's crystalized honey (non-sticky) and chapstick, Stevia (organic, and non-caloric sweetener) and glass tea pots, warmed by tea candles – even sea-salted chocolate samples by Salazon and vegan ice cream from Alchemy in Long Island City.
This weekend's festival (produced by Starfish Junction) was sold out in advance – including the VIP tickets. But there's always next year – plus many other shows at this Armory.  The 69th Regiment has a history going back to the Civil War, so have a cuppa coffee, tea, and history!
Creative Living: 
Swag-bags are fun, but here's the real perk – caffeine (in moderation) actually reduces your risk of Alzheimer's and dementia and helps you live longer. Supporting charities like "Cup for Education" makes you feel better about your life – so do good, be well, and spend some dough on a cup of joe (and tea).
(Editor/Photographer: Jay Berman)
Blog by Susan "Dr. Sue" Horowitz,Ph.D.  www.drsue.com 
CD "Keys of Love"  www.cdbaby.com/drsue
Book: "Queens of Comedy" (interviews with Lucille Ball, Carol Burnett, Joan Rivers, Phyllis Diller, etc.) http://www.smashwords.com/books/view/219367