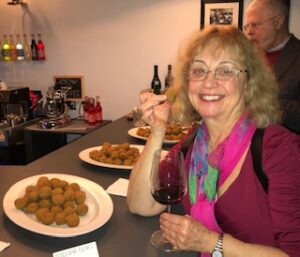 Cremini's Restaurant a "delizioso" (the Italian word for "delicious") taste of Italy in Brooklyn, New York.
What is a "cremini"? A sweet dessert that combines perfectly with the salty taste of an "Ascolana" (stuffed) olive.
Cremini's Restaurant invites you to sample varieties of both (with and without meat).
Ascolana olives and cremini's come from Le Marche region on the east coast of Italy on the Adriatic Sea.
Le Marche is also famous for "crescia" – Italian flatbread – hand-made into appetizing sandwiches and a fettucini pasta (molded into a mound).
Italian "cucina" (cuisine) is best washed down with wine. So sample some favorites from the vineyards of Le Marche: "Passeria Brut" – a sparkling white wine that is a richer version of Prosecco.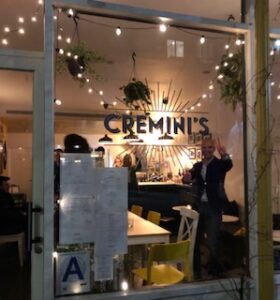 Or try the "Lacrima" red wine. "Lacrima" means "tears" in Italian – which is close to Latin.
(To my surprise, I was able to remember "lacrima" from my high school Latin class – when we read "The Iliad" in Latin.
As my students once reminded me "Nothing you learn is ever a waste!")
It's so true – culture, language, and variety of accents enrich our enjoyment of wine and food – and vice versa.
I hope my blog opens the door to appreciate the rich variety of cultures and wines – wherever you live.
Care to try a little Italian? Can you say "Mi piace" ("I like it")? Or enjoy my original, multi-lingual song "Te Amo/Ti Amo (I Love You)" which begins: "I only meant to share some wine…."
You can explore the joys of local wines and vineyards when you Discover Upstate New York https://www.discoverupstateny.com/dine-stay/wineries-vineyards/
Here's my video with Riccardo, who co-owns Cremini's with his wife and chef Elena.
Dr. Sue's mission is to Empower, Educate, and Entertain! Please like, follow, and subscribe to my Blog and Video.
Susan ("Dr. Sue") Horowitz, Ph.D.
Book: "Queens of Comedy"
(interviews with Lucille Ball, Carol Burnett,
Joan Rivers, Phyllis Diller, etc.) http://www.smashwords.com/books/view/219367
Original Musical: "SssWitch": http://www.ssswitch.net
 CD: "For Heroes and Lovers": http://www.cdbaby.com/cd/drsue2
A song publisher once advised me to write story songs. He said that some of our favorite songs tell stories. Audiences enjoy them, and they're hard to get!
I love stories, comedy, and writing challenges! I also believe that if you can do something a bit unusual, you have a real advantage, so I was excited about taking a class in comedy songwriting at my favorite songwriting/performance camps (www.Summersongs.com ), and Posi Music Festival at Empowerma.com in Orlando, Florida).
I wound up writing and performing my song "A Jewish Girl Named Tex" in many venues, including Summersongs concerts and New York City cabarets. Please enjoy the video, and read on for a few thoughts about writing story songs and comedy.
Video: "A Jewish Girl Named Tex"
)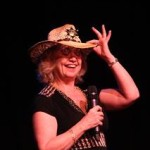 1. What makes a great story? One of the most important elements is a central character with a strong "want". Also, when a sympathetic character is unfairly mistreated and/or headed for trouble, we worry and want to know what comes next. In "A Jewish Girl Named Tex" the main character is abandoned by her parents, confused about her identity, and looking for love. Sympathetic? You bet!) The other important character – the impulsive mother – gets used and dumped by a no-goodnik, but she's still "hopin' for romance." What happens? The song takes you on a journey that answers these questions.
2. What makes something funny? Question #1 doesn't sound funny – but it is, because comedy is rooted in pain – as long as it's framed as comedy pain and uses comic writing/performing techniques. How do you do that?
To answer that question (plus questions about comic combos like Brooklyn girls and cowboys, song structure, rhyme, punch lines, audience participation, etc) , we need more than a short blog. I invite all writers/performers (amateur and expert) to contact me for workshops in New York City, Online via Email, and at Summersongs.com and Posi Music Festival.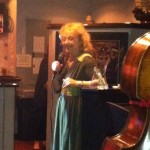 I also invite you to hear me sing romantic songs & parodies in New York City and songwriting camps like Summersongs!
Creative Living:
Do What You Love – and Be Part of a Community: I love writing and performing songs. What do you love? Can you find a way to connect (via camps, conferences, meet-up groups, clubs, professional associations, etc.) that supports who you are. Chances are you'll find more than feedback on your skills – you'll find friends and community.
(Editor/Photographer: Jay Berman, Videography: Jim Vern)
Blog by Susan "Dr. Sue" Horowitz,Ph.D. www.drsue.com
CD "Keys of Love" www.cdbaby.com/drsue
Book: "Queens of Comedy" (interviews with Lucille Ball, Carol Burnett, Joan Rivers, Phyllis Diller, etc.) http://www.smashwords.com/books/view/219367
Dr. Sue: Host/Singer-Songwriter/Interviewer
Where to go to catch a show?  Beat the heat, drink and eat?  
Air-conditioning  on full blast – so chill out – enjoy the cast: 
Funny Comics who can talk, Models struttin' the catwalk  
Dancers with and without  shoes – Singers and fun Interviews  
Tangos, Tappers, Actors, Rappers, Broadway ballads, Caesar salads 
Entertainment – a full menu – dinner – drinks – and here's the venue: 
Lafayette  Grill and Bar – you can catch the Next Real Star! 
54 Franklin Street, (# 1 train to Franklin) NYC   
And Cable/Web cast by JCT! 
************************************************ 
Hope you enjoyed my rhyming tribute to showbiz rhymsters from  Irving Berlin to Jay-Z…that's over a hundred years!
Today's hot media is the Web – but there's no substitute for live entertainment.
JCT Multimedia (TV/Radio/Magazine/Web -Producer: Poppa T.) is sponsoring a series of variety shows at Lafayette Grill and Bar (a full restaurant with dancing)  in lower Manhattan (between Broadway/Lafayette, Subway: #1 – Franklin Street or 2,3,4,5, 6 – Chambers Street).  Our next show will be August 5 (Thursday), 2010.  7pm-midnight – so come on down!
Our last show was tons of fun!  The talent was definitely varied and entertaining:  "The Amazing Amy" Yoga-Contortionist-Dancer (who demonstrated flexibility at any age) ; Fabielle – a handsome model (who showed me how to catwalk); a teen dancer(who tapped her way through a Beatles song ); an actress (with a monologue about a hamburger flipper); a model/singer (who warbled "Sistah" from The Color Purple)  to Miss Asia – an R&B  singer. I hosted the show and sang my original songs "Dare to Believe" "Celebrate Your Life" and "Yo Te Amo (I Love You)" .
After the performances, I did  a group interview of show biz kids with their parents (including Producer Poppa T.)  All agreed that  being in show business is intense, demanding work that takes patience and persistance – plus (from the parents) a willingness to chauffeur their talented offspring to auditions, invest finances and time (and handle the jealousy of siblings who may be too young for the biz – or just not interested).  A bad stage parent pushes the child past his/her own needs and interests to satisfy what is really an adult agenda.  A good stage parent and mentor knows when to step back – to avoid making a performer feel pressured – and when to step forward to encourage, teach, and protect – and to know the difference between the child's interests – and the parent's own needs.
All this is a mental health ideal – and it's not so easy to draw the line – especially when a child is gifted.  What we call "genius" is a combination of unusual talent, hard work, and determination. Where would young Wolfgang Mozart have been without pushy poppa Leopold?  What about young Michael Jackson and driver dad Joe Jackson? More peaceful? Perhaps.  Less productive? Probably.
Whatever your talent or taste, there's something for everyone at JCT"s variety show.  The audience gets free entertainment, delicious food and drink. If you're an aspiring star, this is a chance to be seen – by a live audience plus cable/webcast: http://www.jctmagazine.com/jct92gradio.html  "Success Awaits Us!"
Date/Time: August 5 (Thursday), 7pm-midnight.  No Cover, Great Food/Drinks                                                                                                              Place: Lafayette Grill: 54 Franklin St. NYC (Between Broadway-Lafayette) (212) 732-5600.                                                                                             Subway: #1 – Franklin St. Or # 2,3,4,5, 6 – Canal St. (local) Chambers St. (express)
www.howtobehappyif.com/wordpress  Dr. Sue: drsue@drsue.com
Happiness Habits
Live your dream – and your talent – you don't know if you're hot till you give it a shot!
If you're pushing your child or significant other(s) to achieve – make sure it's their dream – not yours.
Enjoy good entertainment good food -and do what you love!
Encourage yourself by listening to positive songs. You can hear me sing my inspirational, romantic songs by clicking on this link: CD Baby – Dr. Sue "Keys of Love"
Here is the lyric to my chorus of my song "Dare to Believe"
"Nothing is imposssible, nothing's really out of reach
All your silent, secret longings wait for you somewhere – if you Dare to Believe."
CD Baby – Dr. Sue "Keys of Love"
(music, lyrics & performance by Dr. Sue Horowitz) The first song: "Dare to Believe" is free.
Enjoy my book "Queens of Comedy" by Susan Horowitz on my website: www.drsue.com or Amazon.com.
Life is a story book – a collection of many stories – each one with a plot, characters, and the theme or message we take from it. Each story presents an opportunity to learn and practice Happiness Habits.
What's your question? What's your comment? What's your story?