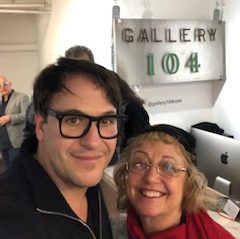 New York Art is a Manhattan Gallery, Website/App, Touring Exhibition, Art Show/Party in Tribeca, NY – and the vision of Artist-Owner-Shane Townley!
Shane and I are standing in front of a sign for Gallery 104, his first venture in the New York art scene – a tiny gallery, where we first met a few years ago. That little seed has put down roots in Manhattan bedrock with an upstairs gallery at 7 Franklin Place and a vast downstairs Exhibition/Work Space for artists that hosts a new show/reception/arts salon on the first Thursday of every month! (May 2, June 6, July 4, Aug 1, Sept 5…)
https://newyorkart.com/
The main gallery space is one floor below street level, and one floor below that is the raw space where New York Art houses its touring collection of artworks – designed to raise awareness, funds, and art supplies for children abandoned in hospitals. This sub-basement remains at a chilly 65 degrees – perfect for a wine cellar where collectors of fine wines can store and share rare vintages.
If climbing those stairs seems daunting, consider this. My first visit to New York Art's underground gallery took place in December 2018 – before there were stairs – just a thin metal ladder from street level to a dark, unfinished basement space. Shane, his long-legged Artist-Curator Cathy Condon, and a few bold souls had managed the ladder. I have short legs and a fear of heights. But Cathy offered to hold my bag and go first – so I tried it. It was a true challenge, thrill, and adventure – what New York dreams are made of!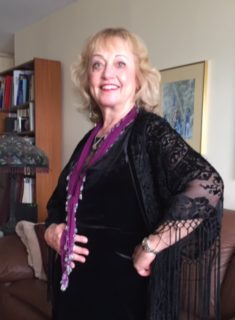 Empowering Entertainment!™
Susan ("Dr. Sue") Horowitz, Ph.D.
Book: "Queens of Comedy"
(interviews with Lucille Ball, Carol Burnett,
Joan Rivers, Phyllis Diller, etc.) http://www.smashwords.com/books/view/219367
"SssWitch" – a Bewitching Musical! www.ssswitch.net
CD: "For Heroes and Lovers": http://www.cdbaby.com/cd/drsue2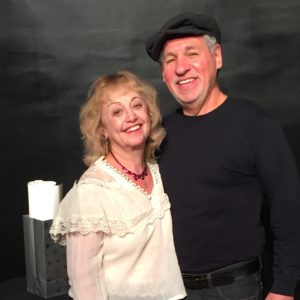 Manhattan Repertory Theatre presents
"TITANIC-PANIC: Move Over Baby!"
A Romantic Comedy by Susan "Dr. Sue" Horowitz
Co-Starring: Susan Horowitz and Gorman John Ruggiero
Audience Comments: 
"Your show was very impressive! You are terrific! I see it as a television series" (Pat McGuinn, Agent/Producer)
"Absolutely engrossing! It felt like a real relationship – so natural I forgot they were acting." (Andreas Quioga, Filmmaker)
"Wonderful! This has such promise! I can see them really falling in love and the audience going nuts! You were adorable!"  (Bobbie Horowitz, Producer/Writer NYC/London)
"It was so touching…I cried." (Carolina Parker, Student BMCC/CUNY)
"My main influences are Lucille Ball, Carol Burnett, and Goldie Hawn.  I interviewed Ball and Burnett for my book Queens of Comedy. Lucy told me the secret of the success of I Love Lucy is the audience loved the comedy and the Lucy-Ricky romance; Carol played comedy spoofs of romantic movies; and I've often been told I remind people of Goldie Hawn." – Susan Horowitz (Award-Winning Writer/Performer)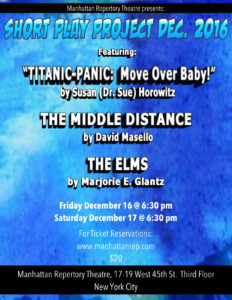 Manhattan Repertory Theatre
Presents:
"TITANIC-PANIC: Move Over Baby!"
17-19 West 45th Street Suite 301 NYC 10036 
(left of Turkish restaurant, Push Code #109, then lower button with bell icon)
Reserve: http://manhattanrep.com/short-play-project-dec-2016/
Price: $20 – for a full evening of entertainment in the center of Manhattan!
Please contact Dr. Sue for Bookings as Speaker or Entertainer.
Enjoy her Book "Queens of Comedy" and CD "For Heroes and Lovers"
"Empowering Entertainment!"
– Susan ("Dr. Sue") Horowitz, Ph.D. 
"SssWitch!" – an Anti-Bullying, Empowering  Musical! www.ssswitch.net
CD: "For Heroes and Lovers": http://www.cdbaby.com/cd/drsue2
Book: "Queens of Comedy" (interviews with Lucille Ball, Carol Burnett, Joan Rivers, Phyllis Diller, etc.) http://www.smashwords.com/books/view/219367
Published Plays: "Judy Maccabee": a Comedy with a Girl Hero!
"Poe-tic Justice" A Naughty Thriller!
Susan Horowitz: Facebook (Susan.Horowitz1) , Linked In, Twitter @drsue6
What a thrill! This weekend, I was the singing host (that's me in the pink top) for the JCT Variety host (now co-sponsored by BMCC club: "Success Awaits Us")  at the Lafayette Grill, NYC.  As Amy Harlib, our yoga contortionist says,  "I love the mix of talent of all kinds and all ages!"  I do too!   My own style and songs are Broadwayesque pop – with a li'l bit of country.   But our variety show casts a much wider spotlight – and it's fun to see all the different styles.
This show, we featured a beautiful dancer Valerie Kale (who looked like she shimmied out of Disney's movie "Aladdin."),  singers (Edwin Arzu, Juadon Rafik/Rocky Ousmane, Shadiya Thompson, Greg), guitarists (Johnny Mantra, Zhen), a comic (Scott Rios), an actress (Jazmin Luperena), rap artists (L.B., One Son),  and  Zurab (in the red shirt) who displayed the movie poster for his film).  Bridget Graham (who sculpts chocolate flowers for her Sweetable Eatables confections) contributed an interview and a yummy blend of chocolate and bling to our raffle (supervised by TV host Leyna). Danni (Kourtney Brown) and Poppa T. (producer) handled the videos.  Whew!  Pause for memory recharge…okay I'm back!
Actually, I believe that memory (and all mental functions) benefit from the stimulation of new challenges.  Certainly, as an English professor (and, shall-we-say "mature"? woman), most people wouldn't expect me to belt out songs and co-produce a variety show, where some of the performers are  half my age and culturally very diverse. But why not?  It's exciting, fun (that rush of applause from my students felt fantastic!) – and mutually educational.  We all get a chance to step out of  our usual roles and see each other as whole people – vulnerable, talented, sexy, smart, stupid, making mistakes, and fixing them.
But even though our roles stetch, they don't entirely vanish.  Zhen, our young guitarist, likes to say "yes ma-am" me.  I think it's culturally more natural for her – and I kind of liked it, too.  My performing name "Dr. Sue" works on stage – and for my students.  "Dr. Sue"  feels like a comfortable compromise between the respect of "Dr."  (as in "Dr. Horowitz") and the easy-to-pronounce, friendliness of "Sue."   My producer, who calls himself "Poppa T."  really is a kind of father figure to the whole production – and his name says it all.
Beyond that, we get a chance to experience different cultures – and to feel adventurous, yet safe.    After our show, I stayed for a  late night supper at Lafayette Grill with my former student Diana Taylor.  I also got up and danced with a hot middle-Eastern/Greek dance band and crowd.   An older gentlemen threw dollar bills on the floor.  I figured they were for my dancing, so I picked them up and tucked them into my waistband and top (feeling a little naughty).   Then we got our check and left.  Right outside the door, another gentlemen told me the money was for the musicians, so I went back inside and threw the bills back on the floor near the band.  it was a little embarrassing, but I figured the simplest way to handle the situation was to admit an honest mistake and move on.  Wouldn't it be great if some of our bigger problems in politics and the mid-east could be handled that easily?
As Diana and I walked toward the subway, we both commented on how everyone danced together – young and old – and how everyone enjoyed the sensuality of traditional dancing and the community bonding.  I also thought the presence of elders provides young people with protection.  In American pop culture, many adolescents and 20 year olds go into a hard-drinking/clubbing culture of peers and strangers with no adult supervision.   Anything can happen – and sometimes does.
I hope our variety show provides excitement, fun, a way to explore diverse cultures – and safety.  I hope we can all grow as a powerful community by thinking outside our "jobs" – special thanks to Jazmin,  her lovely parents, and Juadon who helped with sign-in sheets; Johnny Mantra who played guitar beautifully for my cruise songs "Oceans of Fun"and "Fortunata"  and for Amy's yoga dance; Danni and Zurab, who handled video and sound tech, Leyna who handled the raffle, and to our wonderful, supportive audience! There are many ways to be a star off- and on-stage.  I hope we can nurture and develop talent and provide a fun, social experience for our guests so people will stretch, take risks, have fun, and know there is a safety net of support – so we all can grow together.
Happiness Habits
Step out of your culture/age/stereotype box – some limits are real, but many are self-imposed. I'm not about to do a balletic grand jete (a  thrilling leap that gives the illusion of floating in air),  but I can enjoy the thrill of ballroom and belly dancing.
Celebrate your life and your own tastes and preferences. I might enjoy a cross-cultural foray into the hiphop hood – but my heart will always be a "golden oldie" -especially since, by a miracle of nature – my hair turned blond 🙂
Review by Dr. Susan Horowitz www.drsue.com,  CD "Keys of Love"  www.cdbaby.com/drsue  Book: "Queens of Comedy" (essays and interviews with legendary comediennes – Lucille Ball, Carol Burnett, Joan Rivers, Phyllis Diller.)