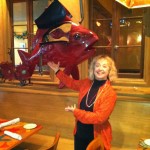 Like a rich gumbo (
New Orleans
) or Manhattan clam chowder (
New York
), big cities can be spiced for every palate:  from fantasy wild to family mild. There's no way to summarize their delights in one blog, but here's a taster's menu.
Red Fish Grill:
"Friends don't let friends eat frozen fish" is the motto of this Bourbon Street restaurant, which serves only fresh-caught fish in an ambiance of  artworks by local artist Luis Colmenares. Here I am displaying my catch: a metal sculpture of a fish by Colmenares. (By the way the meal was much tastier – and easier to cut!)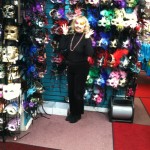 Wear and Buy a Mask – or admire one in a Mardi Gras parade, shop, or museum.
The carnival season lasts from January 6 (or "Twelfth Night") through Mardi Gras (translated from the French as "Fat Tuesday." Mardi is traditionally the last day of feasting before Ash Wednesday – the beginning of Lent). A variety of  krewes (clubs) create and ride on themed floats, fling  "throws" (beads and trinkets) at the crowds lining the parade route, wear costumes, and/or sponsor balls all season long.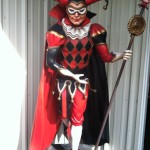 Even out of season, you can catch the flavor at Mardi Gras World! It's a unique museum/warehouse/studio – with a fabulous book/gift shop! Artists design the sculpted decorations for the next  festival season. They also provide decorations  for casinos and theme parks all over the world!
Explore the French Quarter
 .  You'll find everything from street musicians to strip joints.  Some of Bourbon Street is on the seamy side, but other parts of the 
Le Vieux Quartier
  (The Old Quarter) offer courtyards with splashing fountains and hundred-year-old houses that suggest New Orleans green, purple and gold theme colors in muted, vintage hues. You can pump up the volume at jazz clubs (the spirit of Louis Armstrong and other jazz greats lives on!) grab a chicory coffee and a beignet (doughnut) at Cafe Beignet; ride a river boat right out of Kern/Hammerstein's musical "Showboat"); board a trolley (think "A Streetcar Named Desire" – Tennessee Williams'  classic play set in New Orleans); or catch an outdoor tumbling act with multi-ethnic audience participation and equal opportunity ribbing.
What to Eat:
New Orleans is famous for its cuisine. Here are a few favorites:
Marriott Marquis Downtown
n – this unexpected gem is tucked away near the Convention Center in Warehouse District, an up-and-coming neighborhood of art galleries and museums.  Marriott jazzes up its menu with local cuisine (gumbo, jambalaya), and the health-conscious traveler can keep it light with fish and salads. My favorites were the bouillabaisse (fish stew) and wintergreen salad with blackberries.  One rainy afternoon, the lobby featured an "action station" where chefs put their twist on hot buttered shrimp over grits with a cocktail called a "blonde hurricane"!
New Orleans in New York City!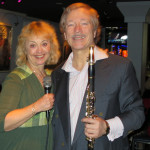 Sue "Dr. Sue" Horowitz (Vocalist)  &
Rick Bogart (Clarinet/Musical Director) 
Perform Jazz Standards, Romantic  Songs & Funny Parodies Broadway Thai Restaurant  241 West 51
st
Street (btwn Broadway-8
th
Ave) NYC Saturday/Sunday Nights  (212) 226-4565, No Cover. Rick is from New Orleans, so enjoy a taste of Dixie in NYC!
A Bientot
(See you soon)!
Creative Living:
Visit New Orleans – or live a your own version of its life style
by eating fabulous food and celebrating your culture and heritage!
Festivate!
– it's a fantasy word – but just like wearing a mask, sometimes it's fun to play with fantasy.  (You can always remove the mask, ditch the glitter, and return – refreshed – to the daily grind – especially if it's New Orleans chicory coffee!) (Photos by Jay Berman)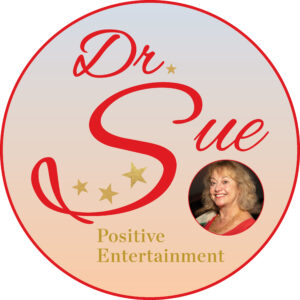 Susan ("Dr. Sue") Horowitz, Ph.D.
Book: "Queens of Comedy"
(Lucille Ball, Carol Burnett, Joan Rivers, Phyllis Diller, and more!)
www.smashwords.com/books/view/219367
Musical: "SssWitch": www.ssswitch.net
 www.YouTube.com/drsuecomedian https://www.youtube.com/feed/my_videos