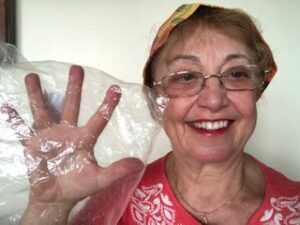 Dr Sue shares Health Tips to Cope with Coronavirus
No gloves? No problem! 
Health Tip #1: Wear plastic bags!
We all know it's best to wear plastic gloves when we touch public surfaces. But what do you do when the stores don't have them? Besides, gloves and masks (which are in short supply) should be reserved for health care providers and people on the front lines.
What can you do?
Get resourceful!
Most of us have plastic bags
lying around the house.
Slip on the gloves when you go outside
– before you touch buttons, door knobs, railings, revolving doors, money, etc. Are plastic bags as effective as surgical gloves? Do they replace social distance? Of course not.
But they are certainly better than nothing.
When you come home, take off your gloves and…
Wash Your Hands!
Health Tip #2: Don't touch your face!
Coronavirus (COVID-19) gets in through the mucous membranes. These are mainly located in the eyes, nose, and mouth – near your face. Touching your face is often an unconscious habit, so I put on a scrunchy, and tucked my hair under my cap. The cap reminds me: Don't Touch Your Face.
Health Tip #3: Self-Isolate and Social Distance
I stay home most of the time and social distance when I go out. We all need to do this – for ourselves and our community.
Stay Healthy – Stay NewYorkStrong !  
Dr. Sue Shares Health Tip: Plastic Bags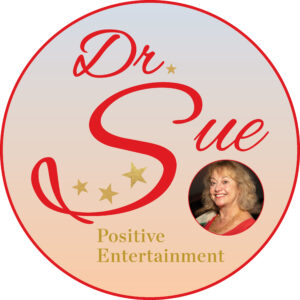 Susan ("Dr. Sue") Horowitz, Ph.D.
Book: "Queens of Comedy"
(Lucille Ball, Carol Burnett, Joan Rivers, Phyllis Diller, and more!)
www.smashwords.com/books/view/219367
Musical: "SssWitch": www.ssswitch.net
 www.YouTube.com/drsuecomedian https://www.youtube.com/feed/my_videos