Dance Parade
! The parade route boogies down Broadway  to Tompkins Square Park, NYC to celebrate the performing arts and multi-cultural fun! Web: www.danceparade.org Dancing divas, colorful costumes, and diversity rule the day in New York City! Here I am with the beautiful
Red Silk Dancers
– a Chinese-American Company that performs traditional and contemporary dance.  http://redsilkdancers.weebly.com/ Brooklyn is in the house – with
Pure Onyx Movement
– an American company that celebrates its African/International roots, Belly Dancing, and Inter-Generational Sisterhood! Director Jeannie Mitchell says, "We breathe together." Here I am with Pure Onyx Movement! Web: http://pureonyxmovement.webs.com/ Is Bollywood calling?
Navatman
is a South Asian Dance and Music Company.  The troupe and school is based in New York and trains dancers in traditional Indian performance styles. Here I am with the Navatman dancers. There are two lovely ladies and two utterly charming children. Web: www.navatman.org Diversity means more than multi-culturalism. It extends to the differently abled – like members of
The Dancing Wheels Company and School
. Director Mary Verdi-Fletcher, may be in a wheelchair, but her passion for dance, vision of possibilities, and sheer capability have created a company and school where thousands of children and adults with and without disabilities study and perform together. Web: www.dancingwheels.org "Ah, but a man's reach should exceed his grasp, or what's a heaven for?" – Robert Browning (Photos by Jay Berman)
Hope you enjoy hearing me sing my original song:
"You Can Be a Hero" copyright 2015 Susan Horowitz
Creative Living by Dr. Sue: Support the Arts!
Without the arts, many children have no chance for a better, more fulfilling life! Without the arts, there is no real beauty, joy,  or civilization!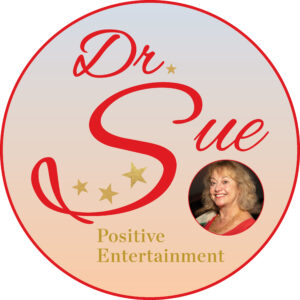 Susan ("Dr. Sue") Horowitz, Ph.D.

Book: "Queens of Comedy"

(Lucille Ball, Carol Burnett, Joan Rivers, Phyllis Diller, and more!)

www.smashwords.com/books/view/219367 Musical: "SssWitch": www.ssswitch.net  www.YouTube.com/drsuecomedian https://www.youtube.com/feed/my_videos

We're "dancing in the street" and on the stage at the annual