TRU (Theater Resources Unlimited –
www.truonline.org
hosts panels and workshops for theater professionals at all stages of their careers. Audiences and Speakers include Producers, Investors, Artists, and Self-Producing Artists (SPA's – because it's so relaxing to produce your own show 🙂 ) Panelists include Commercial Broadway Producers: Eric S. Goldman (Entertainment Attorney), Patrick Blake, Van Dean, Jeremy Handelman, Cheryl Wiesenfeld, and James L. Simon. Here are my notes from the panel – with questions:
Why People Invest – How to Pitch and Choose Projects
1. People invest and produce for different reasons, including:
profit
– everyone hopes to make money, but people may invest for other reasons –
relationship
to creative team and/or producer,
experience
– the thrill of being part of a glamour industry, with opening nights, parties, and the chance to mingle with stars,
passion
for the project – the artistry, message, etc.!
2.
Is this show well-crafted?
(I had the opportunity to successfully present my musical
SSS…WITCH! ssswitch.net
  as part of the TRU series "How To Write a Musical" – the experience was quite helpful!) 3. 
Does this show have a selling point?
Is it based on a popular property? If so, does the producer and/or writer own the rights? Does it have a celebrity star? Will that star sell tickets? 4.
Who is on the production team?
Is there a capable general manager? Does it have a realistic budget? (cast size? sets? etc.)
S.A.F.E. – An Acronym for Smart Choices
1.
S – What will Sell this Show?
  A name-brand property? the concept? the celebrity star? the writing team? 2.
A – Audience
Who is your Target Audience (not "everyone" be specific – and spill over). Do these people go to the theatre? 3.
F –  Funds
How are your investors going to recoup their money – and how long will it take?  How many tickets do you have to sell – and how much will it cost to keep that show afloat? (You can make money beyond Broadway in stock and amateur rights. Musicals are more likely to tour than straight plays – and don't forget licensing – shared by authors and sometimes producers!) 4.
E – Environment
What is happening in the world and current theater environment? Aim for relevance and avoid repetition.
Producers and Projects need to Match!
Producers choose shows for a several reasons – passion for the subject, love of the artistry, money-making potential, entertainment and fun, etc.  Nobody does everything well – or wants to – talent and funding need to match!
The Journey
Most shows don't open on Broadway. They start in regional theatres, off (and off-off Broadway), festivals (for example, fringe and New York Musical Festival) London's West End, International Venues, and today's trend – the movie-cal a slick move from Screen to Stage!
Hope you enjoy hearing me sing my original song "You Can Be a Hero" from my musical show "Cupid's Dart"   (performed at Theater for the New City)
"You Can Be a Hero" copyright 2015 Susan Horowitz
Creative Living by Dr. Sue: Do What You Love!
These tips are intended to help you make smart choices. But even if you never make a dime, if you do what you love, you'll have the time of your life!
Support the Arts!:
Without the arts, many children have no chance for a better, more fulfilling life! Without the arts, there is no real beauty, joy,  or civilization!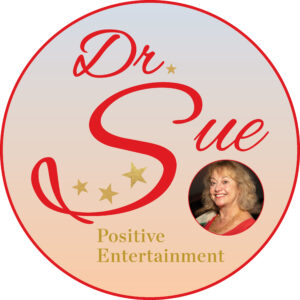 Susan ("Dr. Sue") Horowitz, Ph.D.
Book: "Queens of Comedy"
(Lucille Ball, Carol Burnett, Joan Rivers, Phyllis Diller, and more!)
www.smashwords.com/books/view/219367
Musical: "SssWitch": www.ssswitch.net
 www.YouTube.com/drsuecomedian https://www.youtube.com/feed/my_videos