Dr Sue Sings Funny Witch Song Positive Educational Entertainment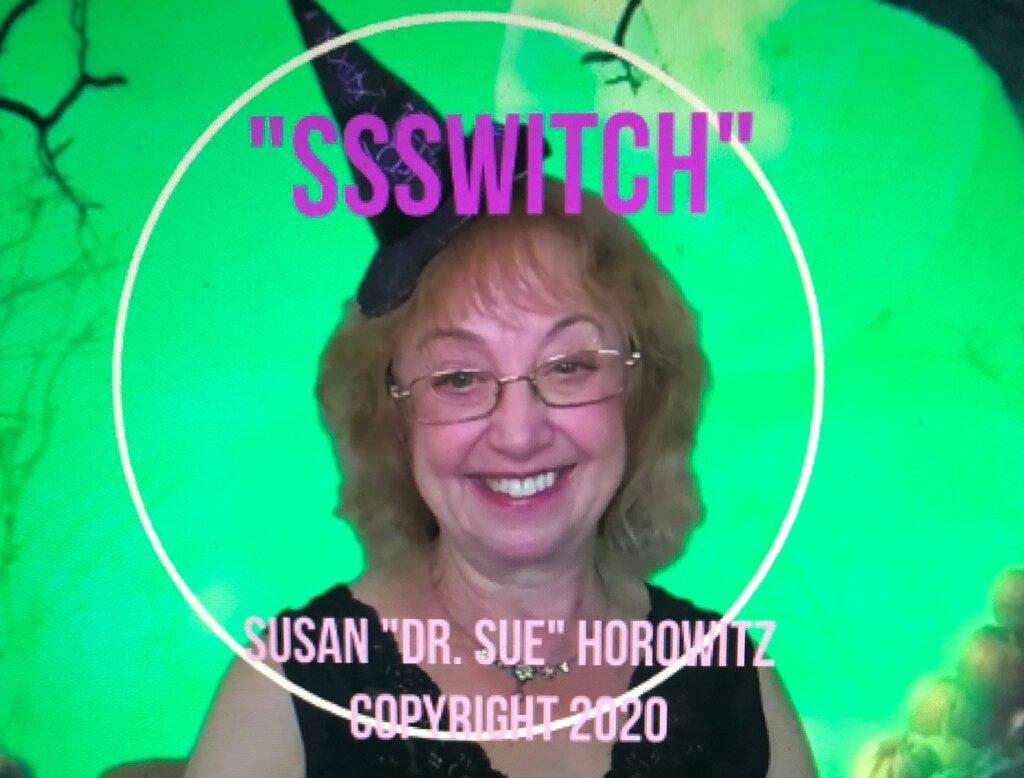 Enjoy Funny Song-Video "Accessory to Crime" by Dr. Sue
from her Original Musical"SssWitch" – www.SssWitch.net .
Dr. Sue, Writer-Performer-Professor, presents a multi-media, entertaining, educational experience! Her original song "Accessory to Crime" from her musical "SssWitch" combines witty, rhyming lyrics and a catchy, sing-along tune.
Dr. Sue speaks to the audience as a funny, flirtatious Witch sharing delightful, magical secrets. Then she sings the witch's song "Accessory to Crime" in which the witch confesses that she resents the special privileges of Disney-type princesses and turns to a life of naughty crime. This comic confessional-complaint is classic musical theater. The jealous villain is a twist on Shakespearean villains like jealous Iago in "Othello."
Dr. Sue speaks and sings with humor and clear diction – so important, especially for those for whom English is a second language.
The Witch appears in her fantasy world – a virtual background with a green sky, twisted black branches and a hint of spiders and pumpkins! The virtual background and costume elements (like Dr. Sue's little witch-like hat) add visual interest and are perfect for online entertainment and learning.
Dr. Sue's introduction and ending remarks establish Dr. Sue as an Entertaining, Host-Educator for a series of progams or stand alone short videos. The videos may be used as prompts for discusssion and writing, and programs may include other guest speakers, artists, and educators.
Enjoy Dr. Sue's Song-Video "Accessory to Crime"!
Here's the "Accessory to Crime" lyric from Dr. Sue"s original musical: "SssWitch"
"Accessory To Crime"
Oh princesses have fame, like that girly - what's her name?
The one with the big pumpkins and the shoes
Without slippers made of glass, it's hard to show my class
So I'm...an Accessory to Crime! 

Oh Beauty had a Beast, a castle and a feast
They call her Belle, but me - they just abuse
They say that I've got zits and very smelly pits
I'm...an Accessory to Crime!

Why do I act like I'm a rat and talk of gloom and doom? 
Why am I cruel to my own cat and ride a big vacuum? 
The devil makes me wear this hat, my outfit makes me itch
I can't impress you with my dress 
So I confess that my success is acting like a witch!

Oh princesses have feet that are tiny and smell sweet
But sister all my blisters tend to ooze
My feet they are humungous, and covered with green fungus!
If I had just one glass slipper, I just might unzip my zipper
For a prince - or a big tipper!
Till that day revenge feels so sublime
I'm...an accessory an accessory...Here's to Crime!

copyright 2020 Susan Horowitz
Written Music is available on Request.
Susan "Dr. Sue" Horowitz is available as an 
Entertaining, Motivational Speaker, Educator, Singer-Songwriter, 
and Teaching Artist. Please Use Contact Form on Website
Please get in touch! We'd love to hear your response and suggestions!