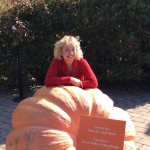 Hope you enjoy Me and My Pumpkin.
One of us weighs over 600 pounds.
(It's a plus-sized version of "Me and My Shadow")
Click below for my original Thanksgiving song –
"The Turkey Trot"
It's an a mash-up of Thanksgiving, Cinderella and Little Red Riding Hood.
A turkey attends a ball hoping to meet a prince with buckles on his shoes.
She meets a pilgrim who invites her on a dinner date….
Moral: be careful about making romantic choices based on shoes.
Dr. Sue's mission is to create empowering entertainment!
Blog by Susan "Dr. Sue" Horowitz,Ph.D.  www.drsue.com 
CD "Keys of Love"  www.cdbaby.com/drsue
Book: "Queens of Comedy" (interviews with Lucille Ball, Carol Burnett, Joan Rivers, Phyllis Diller, etc.) http://www.smashwords.com/books/view/219367
"Sss…Witch!" – a Magical Musical! https://drsue.com/?page_id=7325
Join Dr. Sue (Susan Horowitz) on Facebook, Linked In, and Twitter!