DrSue New Word Lute Music, Shakespeare in the Park New York City. Dr. Sue Positive Entertainment
DrSue New Word Lute. Dr. Sue (Singer/Songwriter) Sings with Troubador/Lutenist/Story Teller Garald Farnham @ Shakespeare in the Park, New York City! Farnham, who is the Musician/Music Director of Ensemble "Good Pennyworths" presents songs that are touching, humorous, and family friendly! Scroll down for 1Minute DrSue New Word Music Video!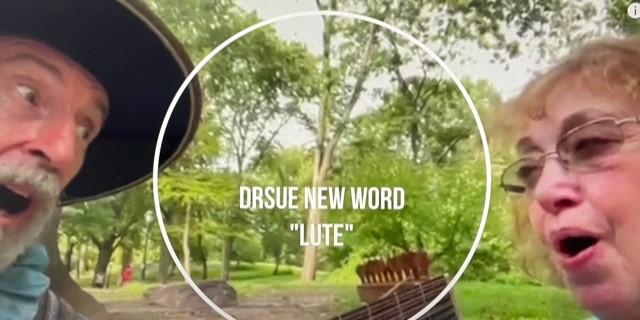 Dr. Sue and Troubador Farnham invite you to a musical journey back to the time of William Shakespeare, with songs from Shakespeare's plays and poetry and the flowering of the English Renaissance. Join us in an enchanted forest (Central Park, NYC). Before there were rock stars and electric guitars, there were minstrels and lutes! Our DrSue New Word is… "Lute"!
DrSue New Word Celebrates Learning, Arts, Science, Diversity, Vocabulary, Travel and Fun!
To learn more about DrSue New Word MultiMedia Entertaining Educational Programs (1 Minute Videos and Related Merchandise) Please scroll down.
Enjoy DrSue New Word "Lute" – One Minute Song Video.
DrSue New Word One Minute Videos (hosted by Dr. Sue) include a catchy jingle, happy logo, videos, photos, original songs – Perfect for All Media!