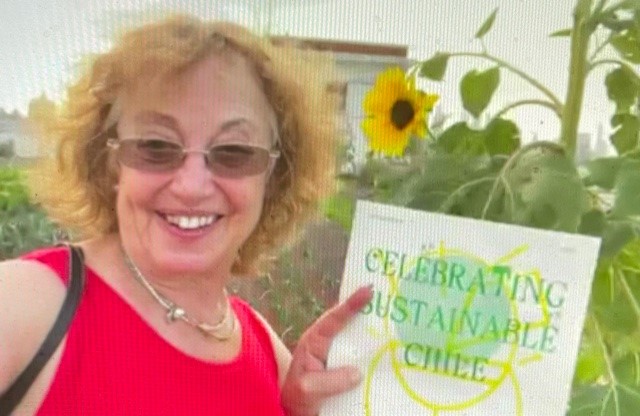 DrSue New Word Sustainable Chile Wine, Food, Travel, Environment Education, Fun!
DrSue New Word and Sustainable Chile share Wine, Food and the Joy of International Travel at Brooklyn Grange Farm – a rooftop garden in Brooklyn Navy Yard, New York City! www.brooklyngrangefarm.com Scroll down to enjoy 1 Minute Song-Video with Magical Sunset Views of Manhattan! Find Susan Horowitz (DrSue) on Instagram @horowitz30
We wend our way through the wine stations – a journey through the gorgeous geography of Chile www.prochile.gob.cl , a south-western Latin-American country, bordered by the Pacific Ocean and the Andes Mountains – and through time. Chilean wines (originally from in Spain) have a five-hundred year old tradition – and blend handcraft and modern technology. Wine varieties that became extinct in Europe still grow in Chile (85% certified sustainable) and are exported internationally. www.prochile.gob.cl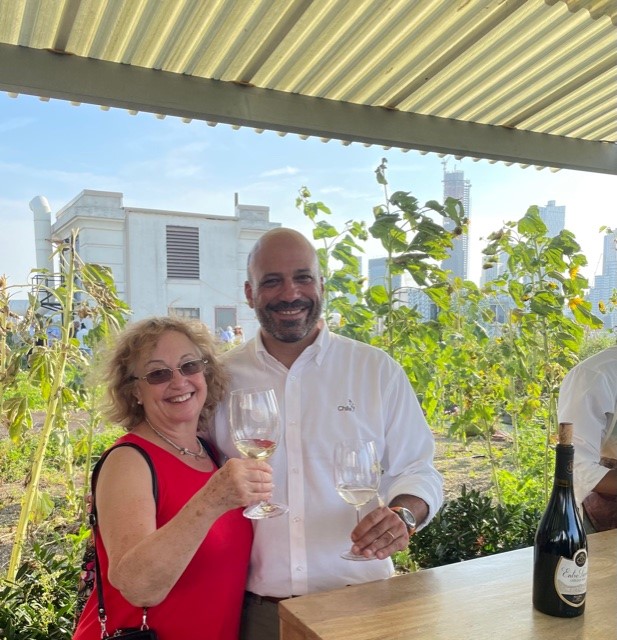 Christophe Desplas, Trade Commissioner of Chile, and Dr. Sue say "Salud" (Health) as we toast Sustainable Chile!
Other treats include empanadas (Latin-American stuffed pastries) and desserts from Dulceria, a Harlem-based Bakery-Wine Bar http://www.Dulcerianyc.com and En Boga Magazine www.enbogam.com
We also played a Chilean game of tossing a wine cork into boxes (I got one out of three), and fun photo ops with Chilean style sombreros (hats)! We all felt safe and healthy due to mandated proof of vaccination in New York State. (I have the app for NYS Covid-19 Vaccination proof on my cell phone for easy access.)
Learn more about DrSue New Word Entertaining, Educational Program https://drsue.com/about/drsue-new-word/
Enjoy 1 Minute Video DrSue New Word Sustainable Chile
Here's the Lyric to Dr. Sue's Original Song: "Love is Sweet As Wine"
"Love is Sweet as Wine" Original Song by Susan Horowitz
"...The moonlight shines like chardonnay
And seems to glisten in your eyes
And our reflections in the glass hypnotize...

Oh my love, hear me call
Let yourself fall
Bedazzled and dizzy 
The feeling's divine
Love is Sweet as Wine,  Sweet as Wine" 

To hear the entire song (Words and Music) 
Contact Dr. Sue on Instagram @horowitz30 
or: drsue at drsue dot com