A Streetcar Named Desire
(formerly of TV's
L.A. Law
and
Sex And The City
) is the first African-American to play Stanley, the brutish Polish husband of a southern plantation belle. (A minor script adjustment removed his surname "Kowalski".) As explicated by Underwood, his non-traditional casting is historically accurate since the New Orleans French Quarter has been long known for inter-racial mixing and there were free blacks as far back as the early 1800's (some of whom owned slaves). Cynthia Nixon plays a brilliant cancer patient in
Wit,
directed by Lynne Meadow of Manhattan Theatre Club (also on the panel). Nixon's current role, complete with a shaved head, is a far cry from  her portrayal of the red-haired lawyer in
Sex and the City
(Blair was her love interest in several episodes) though both roles share an edgy, in-your-face wit.  What's next for Cynthia?  Perhaps working on new play: "The role becomes tailored to you as an actor, and since you know the character so well, you can become a resource for playwright."  Or perhaps a gender-bending take on Shakespeare's
Othello.
"I would love to play Iago because I like to talk. Iago is so fascinating, delicious, and hard to understand." Lynn Meadow, Nixon's director, helms the Manhattan Theatre Club (MTC) which mostly focuses on new work.  "When we do a revival (like
Wit
) we ask, why is it appropriate to do now? Also,
Wit
has never had a Broadway run."   When moderator Elysa Gardner, (
USA Today
theater critic/Drama Desk Board Member) asked about stealing (aka being "inspired by") ideas from other productions, Meadow noted: "We all 'steal' from each other. The previous Longwharf production of
Wit
stole its use of curtains from our MTC production of
Ashes,
so by using curtains in
Wit
, I'd be stealing from myself." What about the influence of iconic performances of a famous role – like Marlon Brando's Stanley in
Streetcar?
 "We all bring our unique voice to a part," said Blair Underwood.  Michael McKean (starring in a revival of Gore Vidal's
The Best Man
) added:  "I saw four major actors (including Al Pacino and Jason Robards) portraying the same role in an O'Neill drama, and they were each very different." Hunter Parrish, a twenty-four year old who is playing Jesus in the revival of
Godspell
asked himself: "How do I emulate someone like that? Everyone has his own idea of Jesus. For two hour period, I play Jesus as a cool, young teacher – which he was!" Whether you are theatre apprentice or a senior craftsperson, live theatre presents a challenge to live in the moment – no matter how often you've done the role, who may have done it before you, or what a director, producer, or audience might think of you.  As Meadow puts it:  "Part of our profession is having access to our childlike playfulness."   I agree – plus having access to theatre savvy, funds, talent, and everything else it takes to bring a Broadway brainchild to a Drama Desk Award!
Happiness/Success Habits
Stretch Your Mental Hamstrings:
Casting an African-American as Stanley Kowalski gives audiences a fresh look at caste, color, and character in New Orleans.  A female Iago would open new, fascinating questions about jealousy, secret lusts, envy, etc.
Beg, borrow, or steal inspiration – then re-combine, re-interpret, add new elements, and make if your own!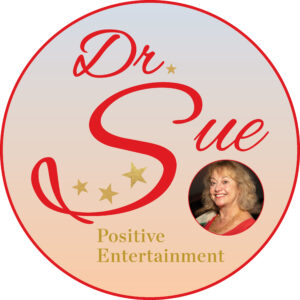 Susan ("Dr. Sue") Horowitz, Ph.D.

Book: "Queens of Comedy"

(Lucille Ball, Carol Burnett, Joan Rivers, Phyllis Diller, and more!)

www.smashwords.com/books/view/219367 Musical: "SssWitch": www.ssswitch.net  www.YouTube.com/drsuecomedian https://www.youtube.com/feed/my_videos

The Drama Desk luncheon at Sardi's offered plenty of food for thought with a stellar panel of celebs from Broadway plus other media. Blair Underwood, starring in