DrSue New Word "Ferry" Travel Positive Entertainment and Education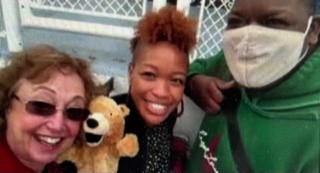 Dr. Sue, Teddly Bear, Jamila & Ja on the Governors Island Ferry
Dr. Sue, Teddly Puppet, and Friends Jamila and Ja ride the ferry from Manhattan to Governors Island, New York. A ferry is a boat (or ship) that carries people and cargo back and forth across a small body of water. A ferry is also the place where you enter and leave the boat. Governors Island is a 172 acre island with an award-winning park, playground, arts center, food trucks, and cultural programs. It is located in New York Harbor near lower Manhattan and Brooklyn. Visiting Governors Island is a fun activity for all ages!
Please Like, Comment, Subscribe and Follow DrSue New Word 1 Minute Videos on YouTube and Social Media
DrSue YouTube Channel: www.YouTube.com/drsuecomedian
DrSue New Word One Minute Videos (hosted by Dr. Sue) include a catchy jingle, happy logo, videos, photos, original songs – Perfect for All Media!
Dr Sue New Word Videos: Learning, Diversity, Travel, Friends, Inspiration & Fun!
Contact Form on DrSue.com Website
Contact Dr. Sue Speaker, Singer-Songwriter & Educator! Contact Form on Website