Dr. Sue Interviews Clearwater Captain Positive Entertainment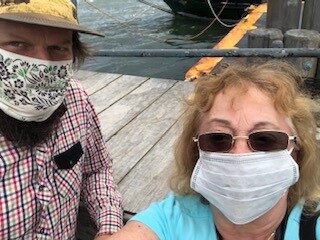 The Clearwater sloop sails down the Hudson River from Albany, NY to New York City with a mission – a Celebration of the Hudson River and the Resilience of Community. This year's journey is called "The River Connects Us."
Launched in 1969 as the brainchild of visionary folksinger-activist Pete Seeger, The Clearwater Sloop has hosted over half a million visitors – and is reaching many more online.
The Covid-19 crisis in 2020 has made visitations onboard unwise and impractical. But you can't keep a good sloop down – or in port. The Clearwater is still still sailing – with a sequestered crew – and an online presence consisting of interactive live streams (with interviews with musicians, local residents, activists, river workers) and videos to document and share the experience on social media platforms.
I met Clearwater Captain Nick Rogers in New York City at the South Street Seaport, Pier 16. The sloop was heading down to the Verrazano Bridge before turning around and heading back upstate. Nick, a former math teacher-carpenter, has been connected to the Clearwater since 2007. He learned most of his skills on the job, and has a Coast Guard's license. Other members of the on-board crew include another captain, environmental scientists, crew members, and a cook. The small crew eats and sleeps on board – sometimes below deck – but a navigating captain must be on deck at all times.
I asked Nick what happens in case of a storm. He replied, "We try not to be in it – or to be the tallest point in case lightning strikes. But if we can't pull into a dock, we point into the storm and sail."
The Hudson River – flowing through New York State into the Atlantic Ocean – has seen many changes since Henry Hudson, the early 17th Century English explorer, discovered the beauty of the American wilderness. By the time Singer-Songwriter Pete Seeger swam in the river with his family, it had become a polluted cesspool. It took this artist-visionary and a team of activists to to begin the journey to reclaim the natural heritage of our waterways. For a virtual, multimedia journey, visit www.clearwater.org
Dr. Sue Interviews Clearwater Captain Nick Rogers!