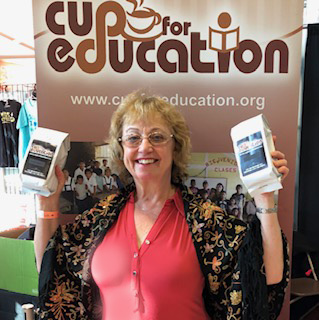 The Coffee & Tea Festival is a fun, annual expo of beverages & related products in Brooklyn, NYC. You can sip your favorite java and support education for poor children in coffee-growing areas – by purchasing directly from Cup for Education www.cupforeducation.org . Here I am – a two-fisted drinker and educator – proud to turn my dollars into diplomas!
You can pamper yourself with beautiful skin and beauty products from Winky Lux www.winkylux.com
You can sip on chai tea (with a little bite from black pepper). I tried it chilled with almond milk… or matte tea – courtesy of Wise Ape!
You can feel like an Aztec god by drinking Mexican hot chocolate from Hernan LLC: www.hernanllc.com
You can snack on fermented tea leaves – crunchy on tortilla chips from www.culturedtealeaf.com (edible & drinking teas).
You can sample artisanal honey (rosemary fig, ginger turmeric, lemon walnut, etc.) from Taste: www.TasteArtisenalMarket.com
You can reap the health benefits (digestion, detoxification, etc.) of dandelion tea from Dandy Lion www.dandyliontea.com
You can protect the planet by drinking an eco-friendly beverage from Bird Friendly coffee www.DrinkBirdFriendly.com
You can chow down soul-satisfying sandwiches (veggie or meaty) from Stufd Truck www.stufdtruck.com (Indoor/Outdoor Catering & Food Truck). I tried the veggi-cheese & chili on toasted hallah bread – yum!
Dr. Sue teaches Michael (from Stufdtruck) how to "SssWitch" the magic word-sign from her original musical "SssWitch" www.SssWitch.net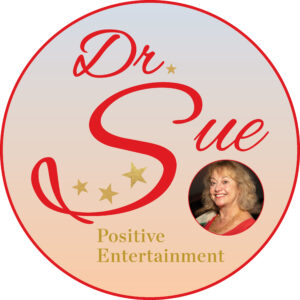 Susan ("Dr. Sue") Horowitz, Ph.D.
Book: "Queens of Comedy"
(Lucille Ball, Carol Burnett, Joan Rivers,
Phyllis Diller, and more!) www.smashwords.com/books/view/219367
Musical: "SssWitch": www.ssswitch.net
 www.YouTube.com/drsuecomedian 
https://www.youtube.com/feed/my_videos