Huayuan Art Show: Blog & Video by Dr. Sue Horowitz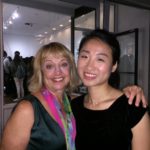 Huayuan Art, a New York based art foundation inspired by ancient Asian art and culture. sponsors an exhibit based on ancient Chinese Buddhist cave paintings.
Here I am with Rae Wang, curator of Huyuang exhibition "The Other Lines of Time" – on display at 119 Ludlow Street, New York City.
As Rae explained, the paintings in this exhibition are created with dry fresco technique, which recall the appearance of original murals in the Dunhuang Caves – part of the ancient trade route known as "The Silk Road". The artist, scholar, and mural conservator is Shen Yongping.
Traveling the ancient Silk Road is a journey through space and time of over a thousand years and miles – but you can experience this ancient, but surprisingly sophisticated Buddhist art by visiting the gallery or Huayuan Art www.huayuanus.com.

Video by Saat-Sue Multi-Media
Many thanks to our host Huayuan Art US: Michael Zhu, Director, and Olivia Song, Marketing.
"My Mission is Empowering Art, Education & Positive Living!"
– Susan ("Dr. Sue") Horowitz, Ph.D. 
"SssWitch!" – an Anti-Bullying, Empowering  Musical! www.ssswitch.net
CD: "For Heroes and Lovers": http://www.cdbaby.com/cd/drsue2
Book: "Queens of Comedy" (interviews with Lucille Ball, Carol Burnett, Joan Rivers, Phyllis Diller, etc.) http://www.smashwords.com/books/view/219367
Published Plays: "Judy Maccabee": a Comedy with a Girl Hero!
"Poe-tic Justice" A Naughty Thriller!