Matzo Ball Romance Comedy Song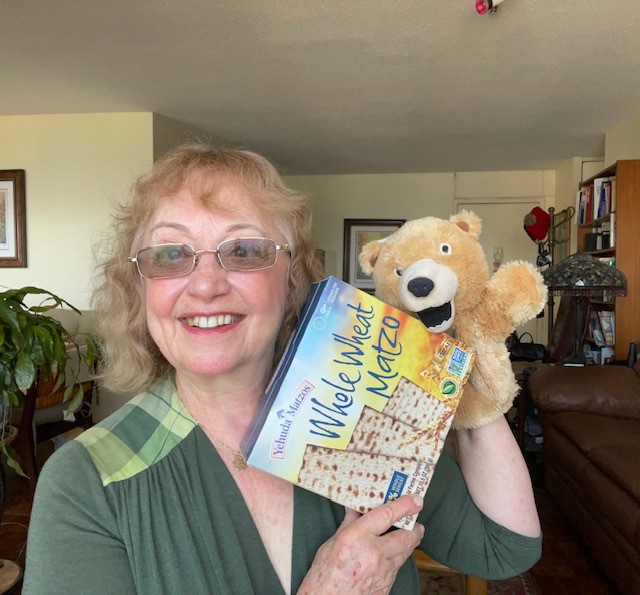 Matzo Ball Romance Comedy Song
Dr. Sue Singer-Songwriter-Comedian-Puppeteer!
Susan "Dr. Sue" Horowitz Sings her funny original song: "Matzo Ball Romance" Teddly Bear Puppet plays Matzo Box Tambourine!
(Positive Humor & Songs)
DrSue Passover Comedy! Here's the link to DrSue performance of "Matzo Ball Romance" at the legendary @Don't Tell Mama Cabaret in New York City! Please scroll down for lyrics and Dr. Sue's Contact information!
Dr. Sue Sings "Matzoh Ball Romance"
Dr. Sue Sings "Matzo Ball Romance" @ Don't Tell Mama Cabaret
Dr. Sue Sings "Matzo Ball Romance" @ Don't Tell Mama Cabaret
"Matzo Ball Romance"  by Susan "Dr. Sue" Horowitz

I was sittin' at a seder
At a temple of worship
When a cute guy sat right next to me

He said, "I am single, and I am a doctor
I have an Ivy degree." 

My Mama said, "Girl, meet a man at a temple
It's better than a barroom or dance.
Don't keep your heart locked or
Miss out on a doctor
A beautiful Matzo Ball Romance." 

I was lookin' at my cell phone 
When I saw a text message
From my romance so kosher and nice

He said, "I am lonely, visit my office
I'll give you a discounted price." 

My Mama said, "Girl, when you go to a temple
Keep your eye out for someone in pants."
Don't know what to call it:
His eye on my wallet
No beautiful Matzo Ball Romance."

Yeah, I went back to the temple.
He saw me but he ran away 
(Like a chicken) 
So I looked 'round the room
I made a new friend. 
There's something that I'd like to say:  

"Fellas and girls, when you go to a temple
Don't be afraid, take a chance
Some folks are chicken
But friends are rib-stickin'
Like a beautiful Matzo Ball Romance.

Music and Lyrics by 
Susan "Dr. Sue" Horowitz
copyright 2022




Enjoy "Songwriting Sisters" Dr. Sue's Solo Show of Songs & Comedy
Enjoy "Switch the Musical" Show and Story Concert by Dr. Sue
Enjoy "Queens of Comedy" & More Books by Susan Horowitz