Snowkus-Pocus Review by Dr. Sue Horowitz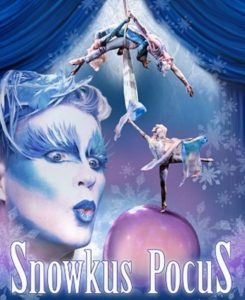 Cirque-tacular's Snowkus Pocus is a magical circus-ballet that amazes the young and young-at-heart! A girl (Criena House) wishes on an autumn leaf and is whisked into a winter wonderland of enchanted acrobats: wily Jack Frost (Aaron Bonventre), blustery North Wind (Teo Sebastian), elegant Snow Queen (Nalina Mann), and flexible Azura (Ellie Steingraeber).
Producer Cirque-tacular Entertainment, Director/Choreographer Tad Emptage, and a team of talented designers furnish family entertainment with aerialists, beautiful costumes, narration, and music.
Performances from January 19 to February 5th, 2017 at the 14th street Y. Tickets can be purchased directly at www.14streety.org or www.snowkus-pocus.com or by calling 646-395-4310.  (Ask about extended dates)
Thursday, January 19th 7:30PM; Saturday, January 21st 11AM/8PM; Sunday, January 22nd 11AM/2PM;
Friday, January 27th 8PM; Saturday, January 28th 11AM/2PM; Sunday, January 29th 11AM/7:30PM
Saturday, February 4th 11AM/8PM
The 14th street Y Theater; 14streety.org 646-395-4310; www.snowkus-pocus.com
CIRQUE-TACULAR ENTERTAINMENT is a premiere New York City based acrobatic and specialty entertainment company. Through thousands of performances in the last ten years, their work has been enjoyed in over 70 countries, by millions live, in conjunction with the most recognized brands, venues, and arts organizations of our age. www.cirquetacular.com
THE 14TH STREET Y is a thriving and dynamic community center located in the heart of the East Village.
"Empowering Entertainment!"
– Susan ("Dr. Sue") Horowitz, Ph.D. 
"SssWitch!" – an Anti-Bullying, Empowering  Musical! www.ssswitch.net
CD: "For Heroes and Lovers": http://www.cdbaby.com/cd/drsue2
Book: "Queens of Comedy" (interviews with Lucille Ball, Carol Burnett, Joan Rivers, Phyllis Diller, etc.) http://www.smashwords.com/books/view/219367
Published Plays: "Judy Maccabee": a Comedy with a Girl Hero!
"Poe-tic Justice" A Naughty Thriller!
Susan Horowitz: Facebook (Susan.Horowitz1) , Linked In, Twitter @drsue6