A Teddly ®
TEDDLY® BOOKS/TOYS/SONGS/ANIMATION
by Susan "Dr. Sue" Horowitz, Ph.D.
Teddly, the teddy bear, helps children overcome obstacles, build confidence, master skills, develop creativity, and solve problems.
"Teddly and the Magic Store"
Teddly meets Buddyfly, a butterfly, and learns self-esteem, sharing, and creative problem solving.
Holidays & Heroes — Children learn about heroes from diverse cultures who conquer fears and achieve success. Sample Stories: "Frida Paints a Pinata" (English/Spanish) "Jin Rides a Dragon" (English/Mandarin) Holidays include:Las Posadas, Chinese New Year, Christmas, Chanukah, Kwanzaa,  Eid, etc.
"Alphabet Fun with Teddly and Buddyfly"
 Teddly looks for Buddyfly and learns early reading skills. Series can expand to numbers, colors, shapes, etc.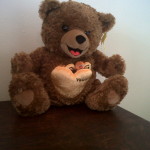 "Goodnight, Teddly"
Life Skills Series: Teddly learns to go to sleep, dress himself, take a bath, good manners
"Teddly, the Teddy Bear" Song written & sung by Dr. Sue. Please Click here: