CALENDAR GIRL: Age-Positive Musical by DrSue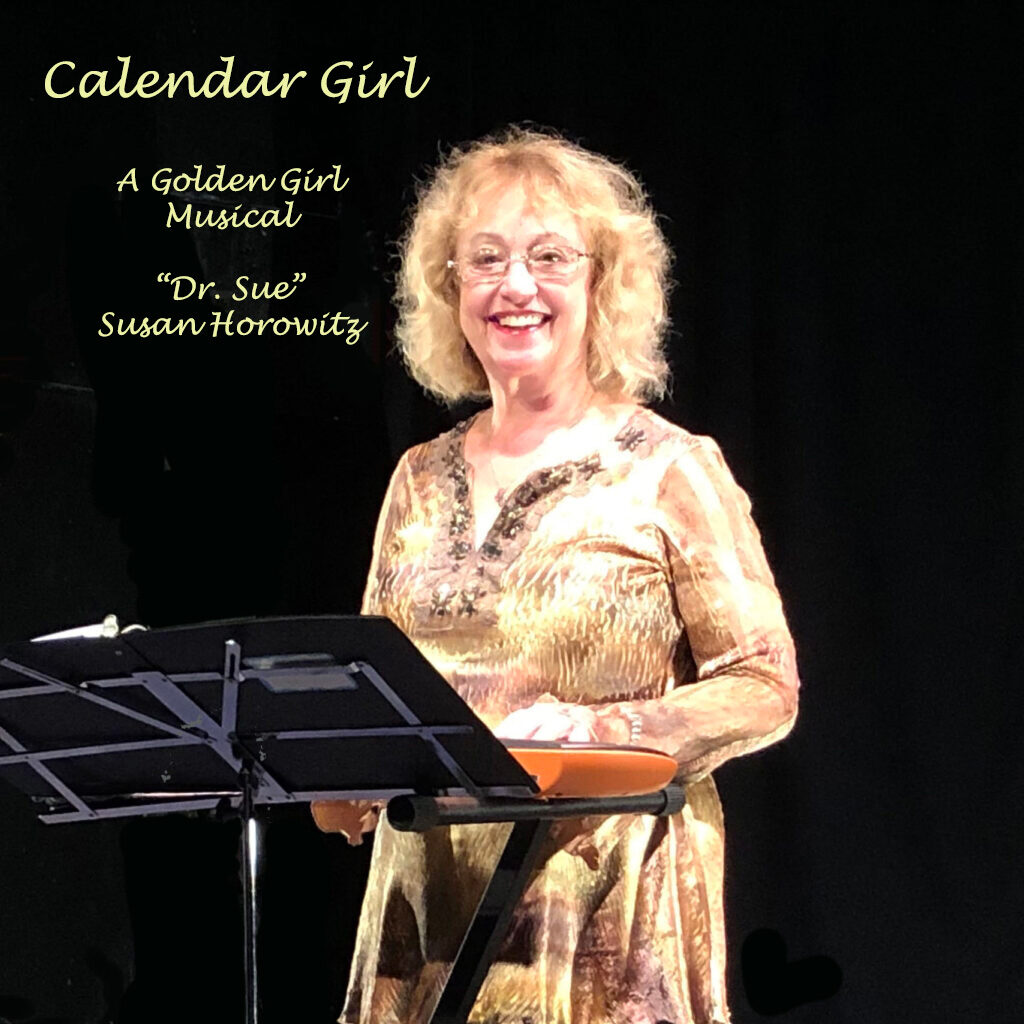 CALENDAR GIRL Songs, Show, Web Page copyright 2022 Susan Horowitz, aka DrSue
CALENDAR GIRL: "Live your passion and believe in love… at every age and stage!"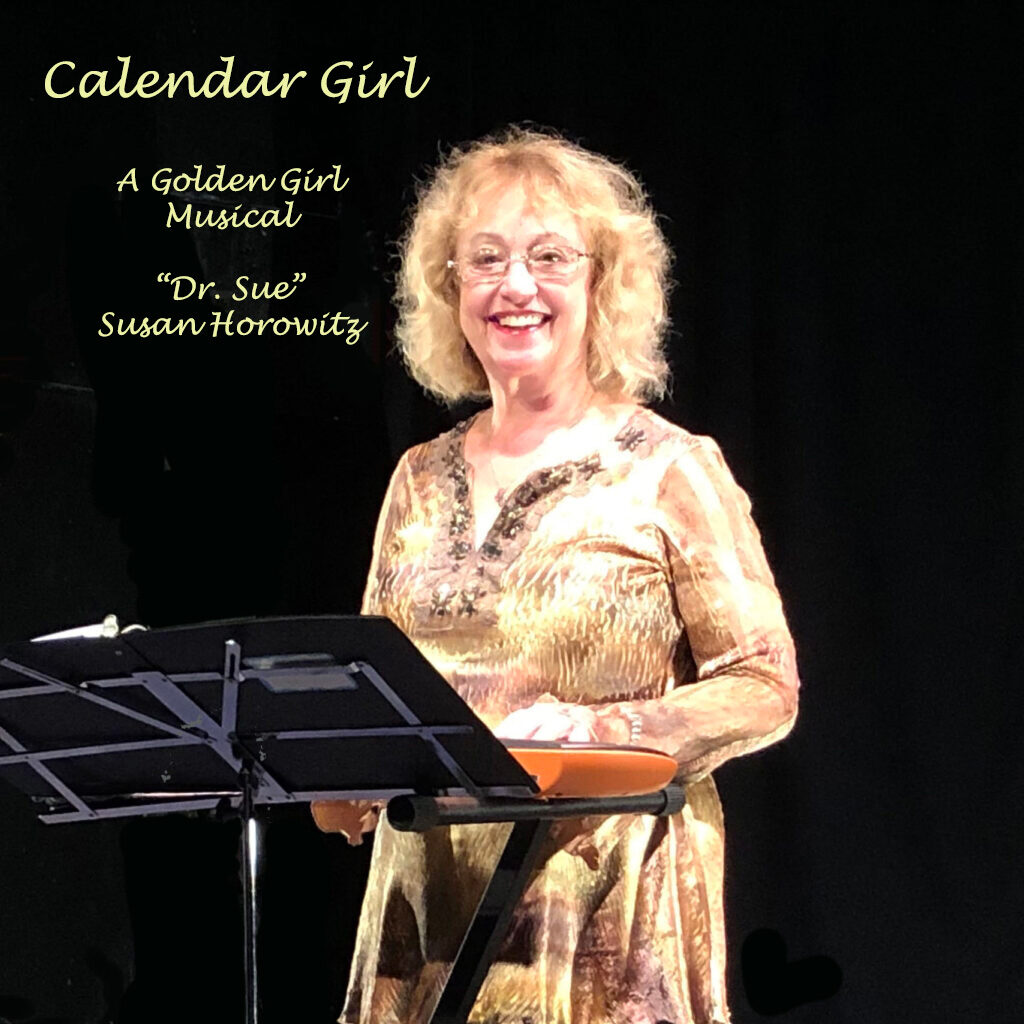 CALENDAR GIRL: Sue, a mature, lonely ("Golden Girl") singer-songwriter, unlucky in love, dreams that she goes to Oz, defies a Witch and Wizard, becomes a "Calendar Girl" by writing songs for every month, and determines to stay creative and be open to love!
CALENDAR GIRL is positive, empowering entertainment for every age and stage!
copyright Susan Horowitz 2022
Photo by Suzen
Performers : Singer-Actress and Music Director (Minimum)
Sets/Music: Unit Set, Piano or Guitar, Costume Elements
Length: Flexible (can add or remove songs) 60-90 Minutes
Development: Susan Horowitz (Dr. Sue) sings songs from Calendar Girl in many iNew York Cabaret/Theatre Venues: Don't Tell Mama, Pangea Cabaret, Church Street Music School, and Urban Stages, The Lambs Club, plus Virtual Fringe Festival Christmas in July.
Scroll Down for Calendar Girl Original Song List & Months
CALENDAR GIRL: Sample Song Videos
"Rainbow to Oz" Song and Performance by Susan "Dr. Sue" Horowitz
"Rainbow to Oz" Original Song and Audio Recording by Susan "Dr. Sue" Horowitz
Dr. Sue Sings "Who Are You Kissing? (on New Year's Eve)"
Dr. Sue Sings "Honeybee" February (Valentine's Day)
Dr. Sue Sings "I Am a Woman" March (Women's History)
Dr. Sue Sings "Matzo Ball Romance" April (Passover/Easter)
Dr. Sue Sings "Teach You In Time" May (Mother's/Teacher's Day)
Dr. Sue Sings "All That We Love" December (Universal Holiday Song)
DrSue Sings "Celebrate Your Life"
CALENDAR GIRL Musical: Story
(Song Titles are in italics. Scroll down for song list.)
Sue, a mature New York songwriter, has a rough day (losing a songwriting contest, romantic rejection, and getting caught in a storm, far from home). The subway stations are closed, and taxis won't pick her up. As her umbrella breaks in the wind, she yells that she hates songwriting and love!  A stranger appears and offers to show her the way to an open station. Unsure if she should trust a stranger, she follows him. Exhausted, Sue falls asleep on the train. She dreams that the subway noise is a tornado (like the one in The Wizard of Oz, her favorite childhood book and movie), and that she rides a "Rainbow to Oz." She meets a Witch who demands that she give up her ruby red musical scarf. Sue resists and says she wants to go home. The Witch says Sue is in no position to ask for favors because (unlike young Dorothy), she's at the wrong end of the calendar. When Sue persists, the Witch tells her to ask the Wizard, who will want to be paid in golden bricks "Hit the Road of Golden Bricks." The road has twelve stops, each having a sign with the name of a month.  If Sue can write a song for the month, she'll be rewarded with a gold brick. Each month has a theme (for example, January's song is about loss, letting go, and moving on). To write the song, Sue must face the issue in her own life. (January's song is "Who Are You Kissing on New Year's Eve" and ends with the line "It's time to embrace the New Year.") December's holiday song "All That We Love" traces her childhood journey from feeling like an outsider to a vision of a world of peace and inclusion: "May peace in the world fly like a dove, may all us us celebrate all that we love." As Sue writes a song for every month, she grows as a person and creative artist.
Sue finally reaches the Wizard and presents twelve golden bricks, one for each month. She tells the Wizard that she is a "Calendar Girl" who deserves to get her wish – to go home. The Wizard takes the golden bricks, and then turns into the Witch! The Witch grabs for Sue's musical scarf, but it slips out of her hands. The Witch falls backwards onto the subway tracks, gets an electric shock, and disappears! Sue realizes that she has been saved by holding on to what she loves (symbolized by her musical scarf), believing that there are good people in the world (like the kind stranger). and meeting a challenge (writing songs for every month). She has fulfilled the show's anthem "Hero In Your Heart." She determines to stay creative and be open to love – in all forms. She wakes up at her own station and walks safely home.
CALENDAR GIRL: Original Songs by Susan "Dr. Sue" Horowitz. Musical Styles: Broadway Pop, Standards, Swing Jazz, Latin, Romance and Rock!
"All That We Love" is 
CALENDAR GIRL Susan "Dr. Sue" Horowitz, Stephen Cornine, Fringe Festival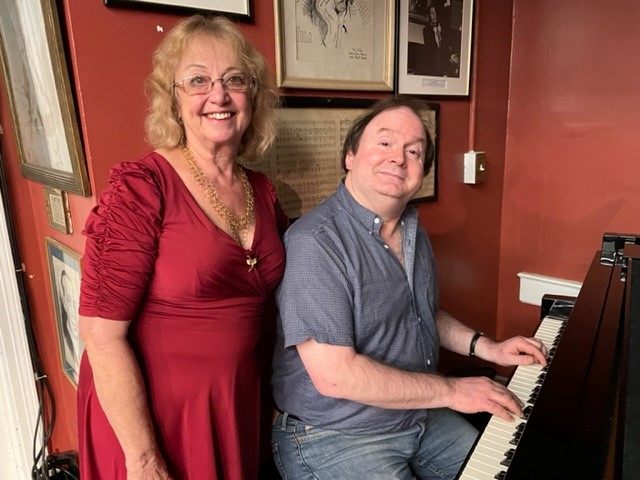 Please Use Contact form on Website
Or E-mail drsue at drsue dot com
Other Musicals by Susan Horowitz (Dr. Sue) Include:
Books by Susan Horowitz include "Queens of Comedy"