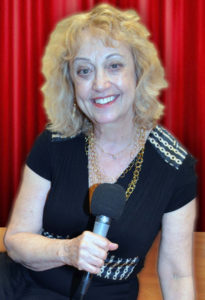 WOS (Women of Substance) Radio is featuring my original, romantic song "Slow As Honey"!
It's part of WOS Valentine Podcast Series.
My date is February, 15, 3pm EST.
I'm very grateful to WOS Radio for offering this wonderful opportunity to songwriters, singers, and fans of high-quality, positive music!
My Podcast Episode #580 – Wed. February 15, 3pm
WOS Radio has also featured my other original songs:
"The Heroes of Nine-Eleven" (A Celebration of Courage)
"Happy Hanu-Krismas" (Interfaith Holiday Song)
Here is a link to my CD "For Heroes and Lovers" https://www.cdbaby.com/cd/drsue2
Scroll down to click on "Slow As Honey"
(Photo of Dr. Sue by Glen Charlow, American Popular Song Society)
Words and Music
by Susan Horowitz
copyright 2016
Have a loving Valentine's Day!
"Empowering Entertainment!"
– Susan ("Dr. Sue") Horowitz, Ph.D. 
"SssWitch!" – an Anti-Bullying, Empowering  Musical! www.ssswitch.net
CD: "For Heroes and Lovers": http://www.cdbaby.com/cd/drsue2
Book: "Queens of Comedy" (interviews with Lucille Ball, Carol Burnett, Joan Rivers, Phyllis Diller, etc.) http://www.smashwords.com/books/view/219367
Published Plays: "Judy Maccabee": a Comedy with a Girl Hero!
"Poe-tic Justice" A Naughty Thriller!
Susan Horowitz: Facebook (Susan.Horowitz1) , Linked In, Twitter @drsue6
Dr. Sue shares Love Tips on JCT Radio/TV Show!
What makes a great, creative gift (with or without a high price tag)?
How can you feel loved and appreciated?
What can you do if you don't get the gift you've been hoping for?
Infatuation is exciting – like fireworks – but what can you do if it fades?
How can you give little valentines to keep that love alive – all year long?
Enjoy my Show on JCT Media with Poppa T "The Motivator"

Creative Living:
Celebrate Valentine's Day as Love & Friendship Day!  Expand your idea of love beyond erotic romance or a relationship with a significant other.   Celebrate your friends, family, even your pets and plants!
Appreciate What's There: People express love and friendship in different ways. Sometimes it's the gift or card that's great – sometimes it's something else they do – or don't do.  Value the gift – whatever the form.
(Editor/Photographer Jay Berman, Videography: JCT Multimedia)
Blog by Susan "Dr. Sue" Horowitz,Ph.D.  www.drsue.com 
CD "Keys of Love"  www.cdbaby.com/drsue
Book: "Queens of Comedy" (interviews with Lucille Ball, Carol Burnett, Joan Rivers, Phyllis Diller, etc.) http://www.smashwords.com/books/view/219367