Dr. Sue Sings her Original Funny Song:
"My Significant Other Is Plants!"

Hope you enjoy my song! Please contact me for Bookings as Motivational Speaker or Entertainer – Enjoy my Book "Queens of Comedy" and CD "For Heroes and Lovers"
My Significant Other is Plants    Words and Music by Susan Horowitz
Now I hate to complain, but I'm feeling depressed
Though I meet loads of guys who are very well-dressed
My cabaret lifestyle is gay, but there's one little thing I must say…
My significant other is plants
Certainly not anyone in pants
I'm annoyed 'cause my life is devoid of romance
My significant other is plants.
I'm surrounded by men who are loaded with class
Their shirts match their ties and a fabulous ass – oops! I mean glasses
I think I am catching their eye
They look past at a good-looking guy…
My significant other is plants
Certainly not anyone in pants
It's not dogs, it's not cats, it's not goldfish or ants
My significant other is plants.
A handsome producer –at last we're alone
I'm on my bed; he's on my phone
I think he is feeling the heat, though he never suggests that we meet…
My significant other is plants
Certainly not anyone in pants
Potatoes and carrots don't do dirty dancing
I'm stuck on the vegetable aisle of romancing
It sure ain't my druthers, these guys act like brothers
My significant other is plants!
"My Mission is Empowering Art, Education & Positive Living!"
– Susan ("Dr. Sue") Horowitz, Ph.D. 
"SssWitch!" – an Anti-Bullying, Empowering  Musical! www.ssswitch.net
CD: "For Heroes and Lovers": http://www.cdbaby.com/cd/drsue2
Book: "Queens of Comedy" (interviews with Lucille Ball, Carol Burnett, Joan Rivers, Phyllis Diller, etc.) http://www.smashwords.com/books/view/219367
Published Plays: "Judy Maccabee": a Comedy with a Girl Hero!
"Poe-tic Justice" A Naughty Thriller!
Susan Horowitz: Facebook (Susan.Horowitz1) , Linked In, Twitter @drsue6
Sophie Tucker, superstar singer, showbiz innovator and marketing genius – (imagine the founder of Facebook as a fat, fabulous diva) – called herself "The Last of the Red Hot Mamas!" Tucker was an international sensation with a sixty year career – she headlined in vaudeville and Broadway, sold out nightclubs; recorded songs tailor-made for her lusty persona, and guest starred on television (including the top-rated Ed Sullivan Show). She hung out with movie stars/singers (like Judy Garland, Mae West, and Frank Sinatra – all of whom she mentored), mobsters (like Al Capone, who booked her in his club, as did Lew Walters, father of Barbara Walters) and seven US Presidents.  Due to her limited exposure in Hollywood films (she appeared in only two, which flopped), Tucker is almost forgotten today, but the documentary film "The Outrageous Sophie Tucker" (opening July 24 at Cinema Village, New York City) aims to change all that.
The docu-bio (produced by Susan and Lloyd Ecker and directed by William Gazecki) traces Tucker's rise from goulash – (a family restaurant in Hartford, CT where a teenage, but already zaftig (plump, curvy) Sophie served kosher food) – to glory! She eloped with a handsome ne'er-do-well named "Tuck" and  quickly became pregnant. But she was determined to escape her mother's fate as a kitchen slave. In a move that was outrageous (especially for an early 20th century Orthodox, Jewish girl), she handed the baby to her sister, changed her name to "Tucker," and took off for New York City. Considered too "fat and ugly" for show business, she was forced to belt out songs in black face as a vaudeville "coon-shouter." She hated it, and when her make-up failed to arrive in Chicago, she went onstage as herself, brought the house down, and never looked back.
I asked Eckers to share the secrets of Sophie's success. "It didn't hurt that she had a voice that could peel the paint off walls." But mainly it was that combination of warmth (she personally answered all her mail and wrote cards to her fans telling them when she was going to appear in their town) and business. Sophie said, "Friends and fans = box office." She was one of the first performers to take a percentage of the gate (during her first number, she counted the seats and made sure she wasn't cheated). If you wanted her autograph, you bought her book – and she didn't give change, even for a $50 dollar bill. (She would announce, "It all goes to charity." In fact, she raised huge sums for her favorite charities, including synagogues.
Sophie may have been a rebel, but she became a prominent member of The Actors' Temple (339 West 47th Street, NYC), which features Tucker's plaque, stairwell photograph, and stained glass window. I interviewed Rabbi Jill Haus, spiritual leader, cantor/singer, and show business supporter. The Actors' Temple hosts shows, a Hanukah open mike and performance fests (like Midtown International Theatre Festival). I asked Rabbi Jill to share a story about Sophie. She told me the temple was originally Orthodox, with men downstairs and women in the gallery. A woman who was a big contributor to the temple, sat herself downstairs, and Sophie immediately followed. "The Rabbi was smart, and the synagogue immediately changed from Orthodox to Conservative (with mixed seating)."
Sophie was always ahead of her time – especially when it came to sexy self-assertion – for all genders, sizes, and backgrounds. The soundtrack of "The Outrageous Sophie Tucker" includes her top hits:  "I Ain't Takin' Orders From No One," "No One Loves a Fat Girl (But a Fat Girl Knows How to Love)," "The Sophie Tucker School for Red Hot Mamas", "My Yiddishe Momme" (the heart-tugging, unofficial Jewish anthem), and her signature song "Some of These Days."
So what are you waiting for? Pep up your life with Sophie serum – movie, soundtrack CD, the Eckers' fictionalized memoir "I Am Sophie Tucker" (friskier and more fun than the official, sanitized 1945 biography). Susan and Lloyd Eckers' first date was at a Bette Midler concert (Ms. Midler told her version of bawdy "Soph" jokes and belted out songs a la Tucker.) The Eckers married, built and sold a business, and are living their dream of bringing their favorite broad back to Broadway! Stay tuned at www.sophietucker.com . For press reservations, interview requests, or more information, contact Richard Skipper Celebrates at Richard@RichardSkipper.com or 845-365-0720.
In the spirit of Sophie Tucker, here's a a video of my original,  funny song: "A Jewish Girl Named Tex":

Creative Living by Dr. Sue: Perk up with Positive Songs!
Long before I ever heard of this film, I used to start my day with Sophie's songs. Her funny, heartfelt, strong assertion of womanhood, sung in clear, jazzy, melodic voice with perfect articulation, always perked me up!
Support the Arts!: Without the arts, many children have no chance for a better, more fulfilling life! Without the arts, there is no real beauty, joy,  or civilization!
Dr. Sue's mission is to create empowering entertainment!
Blog by Susan "Dr. Sue" Horowitz,Ph.D.  www.drsue.com 
CD "Keys of Love"  www.cdbaby.com/drsue
Book: "Queens of Comedy" (interviews with Lucille Ball, Carol Burnett, Joan Rivers, Phyllis Diller, etc.) http://www.smashwords.com/books/view/219367
"Sss…Witch!": a Fun, Magical, Meaningful Musical!
Join Dr. Sue (Susan Horowitz) on Facebook, Linked In, and Twitter!
We're "dancing in the street" and on the stage at the annual Dance Parade! The parade route boogies down Broadway  to Tompkins Square Park, NYC to celebrate the performing arts and multi-cultural fun!
Web: www.danceparade.org
Dancing divas, colorful costumes, and diversity rule the day in New York City!
Here I am with the beautiful Red Silk Dancers – a Chinese-American Company that performs traditional and contemporary dance.  http://redsilkdancers.weebly.com/
Brooklyn is in the house – with Pure Onyx Movement – an American company that celebrates its African/International roots, Belly Dancing, and Inter-Generational Sisterhood!
Director Jeannie Mitchell says, "We breathe together."
Here I am with Pure Onyx Movement!
Web: http://pureonyxmovement.webs.com/
Is Bollywood calling? Navatman is a South Asian Dance and Music Company.  The troupe and school is based in New York and trains dancers in traditional Indian performance styles.
Here I am with the Navatman dancers. There are two lovely ladies and two utterly charming children.
Web: www.navatman.org
Diversity means more than multi-culturalism. It extends to the differently abled – like members of The Dancing Wheels Company and School.
Director Mary Verdi-Fletcher, may be in a wheelchair, but her passion for dance, vision of possibilities, and sheer capability have created a company and school where thousands of children and adults with and without disabilities study and perform together.
Web: www.dancingwheels.org
"Ah, but a man's reach should exceed his grasp, or what's a heaven for?"
– Robert Browning
(Photos by Jay Berman)
Hope you enjoy hearing me sing my original song:
"You Can Be a Hero" copyright 2015 Susan Horowitz
Creative Living by Dr. Sue: Support the Arts!
Without the arts, many children have no chance for a better, more fulfilling life! Without the arts, there is no real beauty, joy,  or civilization!
Dr. Sue's mission is to create and perform empowering entertainment!
Blog by Susan "Dr. Sue" Horowitz,Ph.D.  www.drsue.com 
CD "Keys of Love"  www.cdbaby.com/drsue
Book: "Queens of Comedy" (interviews with Lucille Ball, Carol Burnett, Joan Rivers, Phyllis Diller, etc.) http://www.smashwords.com/books/view/219367
The annual New York Times Travel Show has something for everyone:  from fantasy vacations to a fun afternoon!
You can vacation globally (Asia, Africa, Europe, South America, Antarctica)!
You stay-cation in NYC with a Broadway Show, Dining Certificate &  Parking Voucher with ManhattanClub.com
You can spin a wheel and win a deal (a cruise for two) at GetReadyToCruise.com
You can book a cruise or cruise with books with RoadScholar.org , EnrichmentVoyages.org , or SemesteratSea.org (learning & adventure for savvy seniors or college students).
You can time-travel through New York State via ILoveNY.com/PathThroughHistory,.
You can climb-travel in the Himalayas or a fiberglass wall at the Javits Center. (The wall is a good place to drop off the kids – but fasten that safety harness – unless you really want to drop them off!)
You can climb into a bikini  at a resort pool… or climb into a martini at a midtown Manhattan bistro…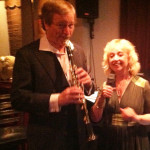 Sue "Dr. Sue" Horowitz (Vocalist)  & Rick Bogart (Clarinet)
Perform Jazz Standards, Romantic  Songs & Clever Parodies
Broadway Thai Restaurant  241 West 51st Street (btwn Broadway-8th Ave) NYC
Saturday/Sunday Nights  (212) 226-4565, No Cover.
Thai &  American Food & Drinks are delicious (and reasonable)
Creative Living:
Live Your Vacation Dream  – You can't take it with you – but you can take a plane, train, bus, boat or taxi  to wherever you imagine! So as the song goes, "Pack up all your cares and woes…" and go for it!
(Editor/Photographer: Jay Berman)
Blog by Susan "Dr. Sue" Horowitz,Ph.D.  www.drsue.com 
CD "Keys of Love"  www.cdbaby.com/drsue
Book: "Queens of Comedy" (interviews with Lucille Ball, Carol Burnett, Joan Rivers, Phyllis Diller, etc.) http://www.smashwords.com/books/view/219367
I  just had the pleasure of attending the New Tang Dynasty (NTD) TV's New Year's reception – a celebration of the revival of traditional Chinese Arts. The date fell between the Western and Chinese New Year – and provided many East Meets West moments – a traditional Chinese tea service in one room and a  cocktail bar in another; models in costumes inspired by ancient dynasties posing in front of a Christmas tree;  a demure, musician playing a pipa (traditional stringed instrument) – while in other rooms, programmers sat at computers producing NTD television  –technically sophisticated  international, multi-lingual  cable and webcast programs.
NTDTV sponsors Shen Yun – http://www.shenyunperformingarts.org/  – a multimedia feast of  Chinese dance, music, costume, cultural costumes, in a blend of live performance and digital projections of a classical landscapes and spiritual visions.  Shen Yun tours internationally and performs annually in New York around Chinese New Year. NTD also sponsors  other cultural events throughout the year – musical, dance, fashion, and culinary  competitions.  In fact, our hors d'oeuvres were made by a master chef and competition winner.  One of my first words in Chinese is "ho mei!" – delicious!
Here's another  photo from the reception – photographs by  Photographer/Writer Jose Pinto Stephen (who is in the top photo). I'm wearing my East-Meets-West black and red jacket!
Happiness/Success Habits:
 Enjoy cultural diversity!  There is so much to learn, savor, and share! Your real kindred spirits may – or may not – come from your own background.  Why limit your friendships to people who look or sound like your relatives?   Life is like a rolling cart of steaming dim sum (Chinese dumplings)  – you have to sample a few to find out what's ho mei!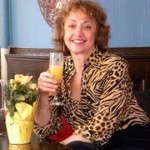 Blog by Susan "Dr. Sue" Horowitz, Ph.D. www.drsue.com, 
CD "Keys of Love"  www.cdbaby.com/drsue
Book: "Queens of Comedy" (essays and interviews with legendary comediennes – Lucille Ball, Carol Burnett, Joan Rivers, Phyllis Diller.)
  Book "Queens of Comedy"
"The Kid From Paris" Jean Brassard's musical tribute to Yves Montand, offers a champagne magnum of masculine French charm, And why not? Brassard, a cabaret artist from Quebec, embodies Montand's seductive charisma (he turned on the likes of Marilyn Monroe, Simone Signoret, and Edith Piaf) and persona as a working class hero (Montand was a passionate spokesman for the French proletariat).  Brassard sings the European songbook for American audiences with English and French chansons (songs). He plays the accordion with brio, and enacts episodes from Montand's life.  Co-written and directed with Brassard's partner David Krueger, with , musical direction by Richard Maheux, "The Kid From Paris" is a celebration of Montand's talent and convictions brought  brilliantly to life by the kid from Quebec. Wednesdays November 9, 23 and December 7, @7pm Triad Theater (158 West 72nd Street, NY, NY 10023) Reservations: http://www.triadnyc.com/
Happiness/Success Habits: Do what you love – and enjoy the intimate magic of cabaret!
Queen of the Mist rules Off-Broadway with an original, brilliant musical about the first woman to shoot Niagara Falls in a barrel.  In 1901 Anna Edson Taylor (Mary Testa), a 63 year old con-woman with poker-straight posture and a temper to match, has been run out of several towns and the home of her married sister Jane (Theresa McCarthy).  Out of cash and stalking fame and fortune, she pounces on her last possibility for greatness -a feat that will establish her as proto-feminist, self-described "phenomenon!"  To bring in "the green" through bookings on the lecture circuit, she hooks up with a hard-drinking manager, Frank Russell (Andrew Samonsky), and they unexpectedly fall into something like love – which turns out to be harder to navigate than the Falls.  Mono-focused on her own feat, Taylor inadvertently encourages a presidential assassin (Tally Sessions), insults hatchet-wielding Carrie Nation (Julia Murney), hires and fires new managers (DC Anderson), and sells her last promotional postcard to a boyish soldier (Stanley Bahorek) who is headed to the front lines of WWI. Words and music are by 5-time Tony nominee Michael John LaChiusa, who blends operatic intensity, humor, and melodic inventiveness; Direction is by Jack Cummings III, who makes imaginative use of the dramatic/comedic potential of the piece and space (an open floor framed by gauzy curtains that suggest both the mists of Niagara and early 20th century parlors – Scene design by Sandra Goldmark). Queen of the Mist is playing at The Gym at Judson Church 243 Thompson Street at Washington Square South, NYC through November 20. www.transportgroup.org
Happiness/Success Habits:
Single-minded focus, passion, planning, persistence, talent (like Anna's scientific mind), and contempt for conventions – like ageist, sexist stereotypes – may make us a "phenomenon" and help us reach our goals. Arrogance, ambition, and the certainty that we are right can push us beyond the crowd and sometimes change the world.  But without compassion and compromise, we, like Anna, may wind up blind to the flawed people who love us  – a lonely queen of the mist of memory.
Blog by Susan "Dr. Sue" Horowitz, Ph.D. www.drsue.com
CD "Keys of Love"  www.cdbaby.com/drsue
Book: "Queens of Comedy" (essays and interviews with legendary comediennes – Lucille Ball, Carol Burnett, Joan Rivers, Phyllis Diller.)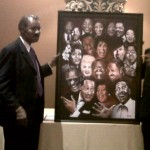 Sometimes a raffle seems fixed by fate – or poetic justice. When renowned jazz pianist Frank Owens (a former musician in the Duke Ellington orchestra) won this group portrait of jazz greats by Kent Drake (a former singer) at the Duke Ellington Center Gala, the crowd erupted in applause!  It was the perfect climax to a series of performance salons that explores serendipitous connections between artists and history.Last night's play "Blacker" written and directed by Russ Weatherford, set in 1898 Paris, stars Eric Rudy as Oscar Wilde – brilliant playwright, poet, critic, short story writer – master of the gem-cut epigram and victim of British laws against sodomy.  Wilde, recently out of a jail, ill, and financially strapped, desperately needs money from his wife's estate.  The key player in his access to the funds is Carlos Blacker (played by Rutherford), who is both drawn to and aghast at Wilde's life style (including the new, male lover in his bed).  Blacker is also part of a plan to free Alfred Dreyfus, the French Jewish army captain who has been framed for treason (with the connivance of the French government) and languishes in jail as anti-Semitic mobs take to the Paris streets.   Blacker confides in Wilde – sharing details and names of a secret group of influential men dedicated to freeing Dreyfus.
Did Wilde reveal and ruin Blacker's plan as revenge when his funds are cut off?  Wilde denies it, but the truth is shrouded in uncertainty, bright surfaces, dark shadows, and paradox – like Wilde's dazzling wit. The gifted cast performs with passion and polish; Eric Rudy's sets and costumes are exquisite; and cocktail treats by Spoonbread Catering were yummy! Many thanks to our hostess Mercedes Ellington, granddaughter of Duke Ellington.
And….here's a shout out to my co-celebrants & friends Ruben Brache, who passed all his SEC exams to establish his securities firm, Opening Night Capital, dealing in global theatrical investments, and Barbara Foster, author of A Dangerous Woman: The Life, Love, and Scandals of Adah Isaacs Menken.
Next on the horizon – October 22 Jazz Americana Festival, 52nd Street (btwn 5th-7th Ave, Stage @ 6th Ave) 12-5pm, Frank Owens plays 3-4pm.
Nov 7, 2011, 7pm 50th Anniversary Gala Screening of Paris Blues, scored by Duke Ellington with VIP reception.
Happiness Habits:
Do what you love – and be who you are.  Oscar Wilde wore a green carnation – an elegant artifice like his wit – and a nod to his dandyism, gender-bender lifestyle, and Irish roots.
Be happy for someone else – if you can.  Frank Owens knew many of the jazz greats in the portrait, is well-liked, and would get tremendous satisfaction out of owning the painting.  It made it even better that he's a personal friend of the artist Kent Drake. Sometimes saying "we're happy for someone else" feels phony, but in this case it was heartfelt.
Listen to positive songs. You can hear me sing my inspirational, romantic songs by clicking on this link: CD Baby – Dr. Sue "Keys of Love"
Here is the lyric to my chorus of my song "Dare to Believe"
Where to go for swingin' singin' holiday? Try Danny Aiello's new album My Christmas Song for You,which he debuted at our last meeting of the New York Sheet Music Society (NYSMS).  Linda Amiel Burns, President of NYSMS and Director of  The Singing Experience, interviewed Mr. Aiello.
But who can resist calling him "Danny"?  He's a down-to-earth guy from the old Italian neighborhood – a real paisan (Italian for friend, homie, amigo, landsman etc.)  He's also an Academy Award nominated actor and singer with performances in over 80 hit films.
Not that anyone expected Danny to have stars in his eyes – or if he did, it was because he was an amateur boxer.  "I had a good left hook" Danny grins, "And. like most Italians,  I was a physical guy – so I got a job as a bouncer."   Danny secretly wanted to be a singer "but in my neighborhood, that meant you were a sissy – not that there's anything wrong with that."   He did get an audition for the Arthur Godfrey Show, but he panicked and excused himself to go to the bathroom. "I never came back."
By the time he was in his 30's he was married to Sandy "a gorgeous Jewish girl"  and had three kids. Times were rough, and Danny used to lie awake at night imagining becoming homeless. He even slid into temptation and robbed a few safes that were stored in warehouses. "I'm ashamed to admit it, and robbery is always wrong.  Besides, the most I ever got was $27… and I  could have gone to jail!"
Fortunately, petty crime did not pay, and Danny did get a paying job at the old Greyhound station announcing the bus route – with flair.  Producer Dore Schary heard him and offered him a job on a touring show. "But it was forty bucks a week and on the road. I had a family to support – so I passed."
Danny finally did get his break on stage in That Championship Season.  "I didn't really know how to act, so I just put out a lot of energy – and the critics loved it!"  Other offers followed  on stage and screen, and Danny found himself hanging out with movie stars like Vincent Gardenia. When Danny told Gardenia that he wasn't sure how to say his lines, Gardenia (familiar with unemployment statistics among actors), counseled:  "Don't worry about it – you'll never work again."
Danny gained renown as the pizzeria owner  who stays in a tough, black neighborhood in Spike Lee's film Do the Right Thing. "When Spike sent me the script, I turned the part down. He had me twirling pizza. I asked him, "How would you like it if I had you twirling watermelons?  But Spike sweethearted me – he took me to Knicks games – and I finally agreed.  I hated my line  'these people grew up on my food' but Spike insisted that we keep it – and that was the line the critics raved about!"
Danny also scored as Nicholas Cage's weak-willed brother who is derailed from his engagement to Cher in Moonstruck. Nick gets the girl, and Danny goes back to his hypochrodriac mother.  "I played such a wimp.  After that, women would come up to me and offer me cokes – but that was all they offered me.  I mean, I wouldn't have done anything about it because my wife would kill me, but still…"
Danny must have been quite the actor, because in person – and especially when he sings – the wimp is nowhere in evidence. The New York Times says Danny "has the bounce of his idols Bobby Darin, Frank Sinatra and Louis Prima, and the throaty lyricism of another idol, Tony Bennett."  Aiello puts a mellow, macho snap  into  "Santa' Claus is Comin' to Town" – but the warmth is all Danny.   It's that warmth that wins over the crowd from big arenas, to intimate bistros, to TV shows like Good Day New York, to to my heart when he complimented me on my red hat and pulled me in for the photo which I snapped from my own cell phone. Made me feel as cheery as Ms. Santa Claus!  
Happiness Habits
It's never too late to do live your dream:  Danny Aiello started acting when he was 35 – with no training. And now, at 70 plus, he's making movies and performing and recording songs.
Build bridges to other generations and cultures: Danny is back in the studio working on his fourth album entitled Bridges, a collaboration of standards with hip hop, due for release in 2011. As the singing host for the JCT Variety Show and singing professor at a community college, I also interact with the "hip hop generation."  I love the standards, but it's good to keep your tastes, personality, and opinions open to fresh influences.
Be honest, admit your mistakes, and move on:  Being emotionally honest is crucial for actors – and for anyone in a close relationship. We may admire (if we believe) people who say they've always done the right thing, but we like and feel more comfortable with people who, like ourselves, have a few flaws.  My blog is called "How to Be Happy If"  Sometimes those "if's" are on the inside.
Blog by Susan "Dr. Sue" Horowitz,Ph.D.  www.drsue.com,CD "Keys of Love"  www.cdbaby.com/drsue
Book: "Queens of Comedy" (essays and interviews with legendary comediennes – Lucille Ball, Carol Burnett, Joan Rivers, Phyllis Diller.)
What a thrill! This weekend, I was the singing host (that's me in the pink top) for the JCT Variety host (now co-sponsored by BMCC club: "Success Awaits Us")  at the Lafayette Grill, NYC.  As Amy Harlib, our yoga contortionist says,  "I love the mix of talent of all kinds and all ages!"  I do too!   My own style and songs are Broadwayesque pop – with a li'l bit of country.   But our variety show casts a much wider spotlight – and it's fun to see all the different styles.
This show, we featured a beautiful dancer Valerie Kale (who looked like she shimmied out of Disney's movie "Aladdin."),  singers (Edwin Arzu, Juadon Rafik/Rocky Ousmane, Shadiya Thompson, Greg), guitarists (Johnny Mantra, Zhen), a comic (Scott Rios), an actress (Jazmin Luperena), rap artists (L.B., One Son),  and  Zurab (in the red shirt) who displayed the movie poster for his film).  Bridget Graham (who sculpts chocolate flowers for her Sweetable Eatables confections) contributed an interview and a yummy blend of chocolate and bling to our raffle (supervised by TV host Leyna). Danni (Kourtney Brown) and Poppa T. (producer) handled the videos.  Whew!  Pause for memory recharge…okay I'm back!
Actually, I believe that memory (and all mental functions) benefit from the stimulation of new challenges.  Certainly, as an English professor (and, shall-we-say "mature"? woman), most people wouldn't expect me to belt out songs and co-produce a variety show, where some of the performers are  half my age and culturally very diverse. But why not?  It's exciting, fun (that rush of applause from my students felt fantastic!) – and mutually educational.  We all get a chance to step out of  our usual roles and see each other as whole people – vulnerable, talented, sexy, smart, stupid, making mistakes, and fixing them.
But even though our roles stetch, they don't entirely vanish.  Zhen, our young guitarist, likes to say "yes ma-am" me.  I think it's culturally more natural for her – and I kind of liked it, too.  My performing name "Dr. Sue" works on stage – and for my students.  "Dr. Sue"  feels like a comfortable compromise between the respect of "Dr."  (as in "Dr. Horowitz") and the easy-to-pronounce, friendliness of "Sue."   My producer, who calls himself "Poppa T."  really is a kind of father figure to the whole production – and his name says it all.
Beyond that, we get a chance to experience different cultures – and to feel adventurous, yet safe.    After our show, I stayed for a  late night supper at Lafayette Grill with my former student Diana Taylor.  I also got up and danced with a hot middle-Eastern/Greek dance band and crowd.   An older gentlemen threw dollar bills on the floor.  I figured they were for my dancing, so I picked them up and tucked them into my waistband and top (feeling a little naughty).   Then we got our check and left.  Right outside the door, another gentlemen told me the money was for the musicians, so I went back inside and threw the bills back on the floor near the band.  it was a little embarrassing, but I figured the simplest way to handle the situation was to admit an honest mistake and move on.  Wouldn't it be great if some of our bigger problems in politics and the mid-east could be handled that easily?
As Diana and I walked toward the subway, we both commented on how everyone danced together – young and old – and how everyone enjoyed the sensuality of traditional dancing and the community bonding.  I also thought the presence of elders provides young people with protection.  In American pop culture, many adolescents and 20 year olds go into a hard-drinking/clubbing culture of peers and strangers with no adult supervision.   Anything can happen – and sometimes does.
I hope our variety show provides excitement, fun, a way to explore diverse cultures – and safety.  I hope we can all grow as a powerful community by thinking outside our "jobs" – special thanks to Jazmin,  her lovely parents, and Juadon who helped with sign-in sheets; Johnny Mantra who played guitar beautifully for my cruise songs "Oceans of Fun"and "Fortunata"  and for Amy's yoga dance; Danni and Zurab, who handled video and sound tech, Leyna who handled the raffle, and to our wonderful, supportive audience! There are many ways to be a star off- and on-stage.  I hope we can nurture and develop talent and provide a fun, social experience for our guests so people will stretch, take risks, have fun, and know there is a safety net of support – so we all can grow together.
Happiness Habits
Step out of your culture/age/stereotype box – some limits are real, but many are self-imposed. I'm not about to do a balletic grand jete (a  thrilling leap that gives the illusion of floating in air),  but I can enjoy the thrill of ballroom and belly dancing.
Celebrate your life and your own tastes and preferences. I might enjoy a cross-cultural foray into the hiphop hood – but my heart will always be a "golden oldie" -especially since, by a miracle of nature – my hair turned blond 🙂
Review by Dr. Susan Horowitz www.drsue.com,  CD "Keys of Love"  www.cdbaby.com/drsue  Book: "Queens of Comedy" (essays and interviews with legendary comediennes – Lucille Ball, Carol Burnett, Joan Rivers, Phyllis Diller.)