Art & Poetry by Dr. Sue
"Together We Rise"
copyright 2018
Susan Horowitz
"Together We Rise"
is an original artwork b
by Susan "Dr. Sue" Horowitz, Ph.D.
It is available as an
original, hand-signed
painting, limited edition prints, or posters.
"Together We Rise" is designed to uplift our spirits; inspire thought, discussion, and sharing ideas; and transform our public and personal spaces into areas of joyful communion. "Together We Rise" – and Dr. Sue's other artworks can be shipped directly to you!
If you would like "Together We Rise" for your home or public space, or if you would like to set up an interactive, multi-media, public event for promotional or other purposes (perhaps including your own art or writing) ….
Please contact Dr. Sue (drsue At drsue Dot com)
"Dragon Branches" Painting and Poem by Susan Horowitz copyright 2018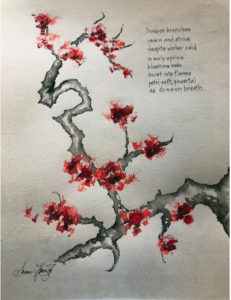 "Dragon Branches" is designed as a beautiful image, with or without an embedded poem. The image and poem reflect the cross-influences of Eastern and Western cultures. The visual style co-mingles traditional Asian art (plum blossoms) and Western impressionist painters. The poem combines a classical Asian subject (the plum branches survive the winter and the blossoms are the harbingers of early Spring) and traditional symbol – the Dragon. "Dragon Branches" suggests that the life force in living creatures – even those as delicate as flower petals – triumphs over the sleeping death of winter and is as powerful as dragon's flaming breath. The twisted shape of the branches suggests the twisting Asian dragon; the abstract, red flowers suggests the flaming breath of a dragon. Here is the poem:
"Dragon Branches"
Dragon branches
yearn and strive
despite winter cold
in early spring
blushing buds
burst into flame
petal-soft, powerful
as dragon breath
Empowering Entertainment!
Susan ("Dr. Sue") Horowitz, Ph.D.
Book: "Queens of Comedy"
(interviews with Lucille Ball, Carol Burnett, Joan Rivers, Phyllis Diller, etc.) http://www.smashwords.com/books/view/219367
"SssWitch" – a Bewitching Musical! www.ssswitch.net
CD: "For Heroes and Lovers": http://www.cdbaby.com/cd/drsue2