Snow White & Tummy Troubles Dr. Sue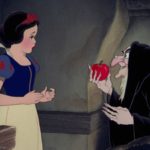 What do you have in common with Snow White?
Are you pure as snow, wrinkle-free, with flat abs?
Are you tempted by witches?
Snow White's witch may be "reel" (on film).
But tummy trouble is all too real.  Here are some tips based on my recent experience – and crowd-sourced from my Facebook friends.
If you're really in pain, or it lingers, or you're worried, see a medical doctor. I did and got much-needed antibiotics.  You could have a toxic infection, appendicitis or something serious, so get professional help.
If it's a simple tummy-ache,  here is advice from my Facebook friends, who acted like real friends in my moment of need.  Thanks, guys. Here goes…
Ginger Ale will help.(Gretta M. Heron)
Drink apple cider vinegar works for me. (Jason Rupp)
The best stuff for a messed up stomach? Carrot juice. I swear by it. (Ron McKechnie)
Suck on some hard candy – my recommendation is Werther's. If you are feeling better, chew some gum. Both will help your stomach prepare to have solid food again.Once you start semi solids, try some ginger chews (Trader Joes). It will help your stomach and digestion. (Laura Levinsky)
Ginger Chews – they work. (Thomas Engstrom)
One can of Coca-Cola will do the trick! Charcoal capsules are also good to absorb all the baddies and eliminate them. Now available in drugstores. But not if you're taking antibiotics. You don't want to eliminate the good stuff.(Melba LaRose)
I always have mashed potatoes or baked potatoes as one of my first foods when coming back from a stomach bug.(Audra Hale-Maddox)
Rest up. (Cheryl J. Fish)
 

Chamomile tea (Irene Market)

Try Cream of Wheat. It works faster and better. Cola syrup helps too. (Merrilly Noeth)
Lots of Healing Energy and Love (Rob Resnick)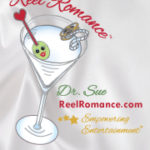 Yes! Besides all the practical tips, I want to thank the many, many more friends who showed love and concern.
I honestly didn't expect this outpouring of support – and it helped a lot!
Now that's real/reel romance! Hugs2U Sue
Empowering Entertainment!™
 Susan ("Dr. Sue") Horowitz, Ph.D.
Book: "Queens of Comedy"
(interviews with Lucille Ball, Carol Burnett,
Joan Rivers, Phyllis Diller, etc.) http://www.smashwords.com/books/view/219367
"SssWitch!" – a Bewitching Musical! www.ssswitch.net
 CD: "For Heroes and Lovers": http://www.cdbaby.com/cd/drsue2
 Dr. Sue is an award-winning Writer/Performer/Professor Books, Plays, Musicals, Screenplays, Poetry, and Songs.