Reel Romance™ & Shark Tank™ by Dr. Sue
What does Reel Romance™ have in common with Shark Tank™?
What do Reel Romance and Shark Tank have in common? Both shows are Empowering Entertainment with Mentors.
Both shows use Social Media: Facebook, Blog, Twitter, Linked In. Both shows use Television and/or Radio. You're probably familiar with Shark Tank™ .
Reel Romance™ has JCT Radio/TV & Multimedia.
Both shows have ongoing personalities who act as mentors.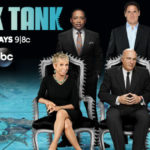 Shark Tank™ has the sharks.
Sharks are successful entrepreneurs.
They might help you – but watch out!
They have big appetites and sharp teeth!
Reel Romance™ has Dr. Sue (Susan Horowitz, Ph.D.): Author/Interviewer of best-selling book "Queens of Comedy" based on her interviews with comedy legends/entrepreneurs like Lucille Ball, Joan Rivers, etc., Professor/Mentor at City University of New York; Award-Winning Writer of "Read With Me" Children's Book of the Month Club Series, and Comedies, like "Reel Romance with a Twist!" – world premiere at the prestigious New York New Works Theatre Festival in the heart of Broadway!
Reel Romance™ and Shark Tank™ appeal to people's basic aspirations: love and money!
How are we different?
Shark Tank™ is a big shark (lots of money, media support, etc.) swimming in a sea of greed.
Reel Romance™ is a happy olive with a heart toothpick, swimming in a sea of love. (Actually, it's a Reel Romance cocktail or mock-tail (with or without alcohol).
Are you asking yourself: What's In It For Me? (We're all tuned to station WIIFM) Reel Romance™ cocktail comes with a twist! The unexpected answer to your questions!
Post questions about your relationships (romantic & otherwise) and aspirations.
You'll get Dr. Sue plus crowd-sourced advice on our Facebook page: ReelRomanceDrSue
You can post anonymously, for other people, or just include initials.
As Dr. Sue, I have helped people get scholarships and thousands of dollars by learning to think, write, and speak in terms of their G.O.A.L.S. !
I also encourage them to make positive, reality-based life-choices.
No mentor comes with guarantees. But we'll crowd-source opinions from members of our Reel Romance™ community (plus experts). We'll do our best to help you help yourself!
So, as they say on Shark Tank™ , is it a deal?
Post your questions or comments on Facebook: https://www.facebook.com/ReelRomanceDrSue
Or: E-mail your questions to DrSue@ReelRomance.com
(message FaceBook page ReelRomanceDrSue to look for your E-mail)
Reel Romance™ web page: www.ReelRomance.com
(For now, it's on my main website: www.drsue.com )
Reel Romance™ – we're a Blog, a Show, a Brand!
Just like waistlines, we expand!…
(Thanks to JCT Multimedia, Kellyrose Marry (Media Consultant) Justin Woo (Photographer)
Empowering Entertainment!™
Susan ("Dr. Sue") Horowitz, Ph.D.
Book: "Queens of Comedy"
(interviews with Lucille Ball, Carol Burnett,
Joan Rivers, Phyllis Diller, etc.) http://www.smashwords.com/books/view/219367
"SssWitch!" – a Bewitching Musical! www.ssswitch.net
CD: "For Heroes and Lovers": http://www.cdbaby.com/cd/drsue2
Dr. Sue is an award-winning Writer/Performer/Professor Books, Plays, Musicals, Screenplays, Poetry, and Songs.
Facebook https://www.facebook.com/ReelRomanceDrSue
Linked In, Twitter @drsue6
copyright 2017 Text and Original Art by Susan Horowitz "Dr. Sue"