Relationship Recipes by Fran Berger (Blog by Dr. Sue)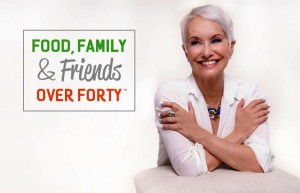 Fran Berger, founder and host of the website www.franberger.com calls herself a "Lifestyle Contributor." In other words, her website, based on Fran's photo-blogs, offers chatty advice on living the good life – especially if you're female and on the far side of forty.
An enthusiastic "foodie" and virtual best girlfriend, Fran offers "Relationship Recipes" – ways to prepare and share food and beverages to nourish family and friends. The food can range from home-made pasta on a marble table in Italy or a rainy day stew (slow-cooked with a bottle of wine) to (for the gal or mom on-the-go) take-out pizza or coffee on a park bench. What counts is the body/mind nourishment of good food and good company.
Fran stresses the importance of female friendship, which predicts a long life and a fun lifestyle Her website features a photo of Fran and two women friends raising glasses of wine in a convivial toast. Fran is the one in the middle – petite, pretty, with a pixy-like silvery coif and an upturned smile.
The rest of the side is devoted to four aspects of "the good life": Food, Friendship, Travel, and Lifestyle. As a successful, former owner of "The Farm" (an A-list restaurant in Restaurant in Beverly Hills, CA for twenty years) Fran certainly ought to know from food – and crisis management.
"To be in the restaurant business, you have to thrive on drama," says Fran. But now, after at 65 and the divorced mother of grown sons, she is ready to embark on her next life adventure – and media opportunity. She admits to being a fan of reality shows, and she hopes that her tips on living with style will translate into an on-air presence.
Meantime, you can enjoy her virtual friendship online on her website www.franberger.com  – and maybe pick up a few tips for your own life!
Susan "Dr. Sue" Horowitz,Ph.D. www.drsue.com
CD "Keys of Love" www.cdbaby.com/drsue
Book: "Queens of Comedy" (interviews with Lucille Ball, Carol Burnett, Joan Rivers, Phyllis Diller, etc.) http://www.smashwords.com/books/view/219367
"Sss…Witch!" – a Magical, Motivational Musical! www.ssswitch.net
"Judy Maccabee": a Hanukah comedy with a girl hero!
Join Dr. Sue (Susan Horowitz) on Facebook, Linked In, and Twitter!
Dr. Sue's mission is to create empowering entertainment!